An Object Linking & Embedding (OLE) action is a mechanism that helps Office applications like Excel, Word etc. to interact with other applications to complete an operation. For example, Excel tries to communicate with other application such as Word, and it generally issues a command to OLE object and then waits for the response from Word. If the return call or response is not achieved in some threshold time via OLE object, Excel starts triggering following warning to end user:
Microsoft Excel is waiting for another application to complete an OLE action.

This warning can appear in any Office application of any Microsoft Office edition, in which OLE object has failed to respond in specified time. A repetitive warning will obviously irritate you and you may want to fix it asap. So if you're victim of this issue, here are the suggestions you can try and get rid of it.
FIX : Microsoft Excel Is Waiting For Another Application To Complete An OLE Action In Office 2007/2010/2013/2016
FIX 1 – General Suggestions
You may want to try these suggestions and see if they helps you:
Reboot your machine and check the status of problem after reboot
Temporarily disable add-ins in Excel application
Try closing the other applications that you find interacting with Excel application, specially other Office apps such as Word, PowerPoint etc.
If still, you find no differences in situation, check FIX 2.
FIX 2 – Disable Usage Of DDE Protocol
1. Open any workbook or new document in Microsoft Excel. Click FILE.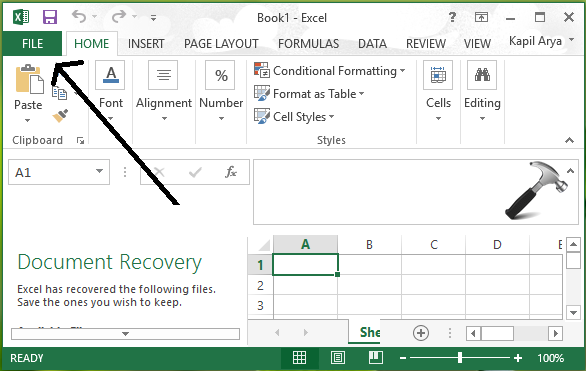 2. Then click Options in left pane of following screen: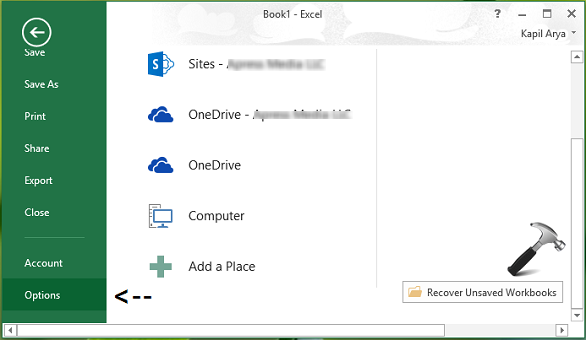 3. In the Options window, select Advanced in the left pane and scroll down in the corresponding right pane until you reach General section. In this section, you've to uncheck Ignore other applications that use Dynamic Data Exchange (DDE) option.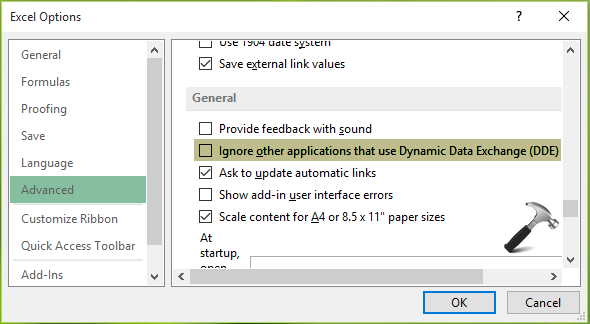 Click OK and restart the system to make changes effective. After reboot, problem will no longer appear.
You may consider to uninstall and then make a clean install of Office, if the problem still persists anyway.
Hope this helps!