Microsoft has integrated Windows OS with OneDrive so that users may sync files online with ease. OneDrive is good solution for backup of your stuff, in case if your PC fails to work at sometime due to hardware failure. With Windows 10, the OneDrive integration has been enhanced to improve user experience.
However, some users may found that OneDrive keeps crashing on their system and this message appears at the moment:
Microsoft OneDrive has stopped working
A problem caused the program to stop working correctly. Windows will close the program and notify you if a solution is available.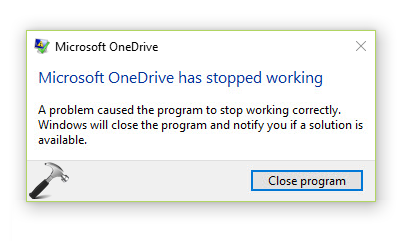 If this is the problem you're experiencing often, this article will be help for you. There are plenty of factors that may cause this issue and and different approaches can be used to fix those cause.
Here are few suggestions to get rid of this problem:
FIX: Microsoft OneDrive Has Stopped Working In Windows 10
FIX 1 – General Suggestions
1. As soon as OneDrive crashes, reboot the machine.
2. Then run the System File Checker scan. If these is a file corruption associated with OneDrive base files, this will help you to fix it.
3. If you're using Microsoft account, switch to local account and then again switch to Microsoft account. If possible, try to use different Microsoft account for re-switching.
4. Make sure you install all the latest Windows Updates available to you.
5. The faulting module for OneDrive crashes is usually kernelbase.dll located at C:\Windows\System32 (assuming Windows is installed on C: drive). When OneDrive crashes with the title error message, see problem details. If those details lists reads a line Faulting module path: C:\WINDOWS\SYSTEM32\KERNELBASE.dll then you can re-register this DLL file. Open administrative Command Prompt and run regsvr32 KERNELBASE.dll command. See if you face the issue then.
6. Windows 7/8/8.1 users can also run OneDrive troubleshooter. However, unfortunately the same troubleshooter for Windows 10 is not available yet.
FIX 2 – Reset OneDrive In Windows 10/8
In case if workarounds in FIX 1 doesn't helps, follow below mentioned steps to reset OneDrive.
1. Press

+ R to open Run.
2. Type/paste following and press Enter key or click OK.
%localappdata%\Microsoft\OneDrive\onedrive.exe /reset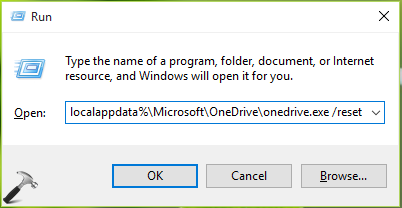 3. Restart your system and you'll be presented with OneDrive interface for the first time setup.
This should finally fix often crashing issue for OneDrive.
Hope something helps!