In Windows 8, you can make various settings according to your way using PC Settings panel. So it is of primary concern and thus should be available to make configuration to your Windows. But this seems not happening in some cases. I have posted troubleshooting steps, few months ago, about non-accessibility of PC Settings. Add to this, there exists some other issues which many users have came around and I would like to try those issue with the help of this article.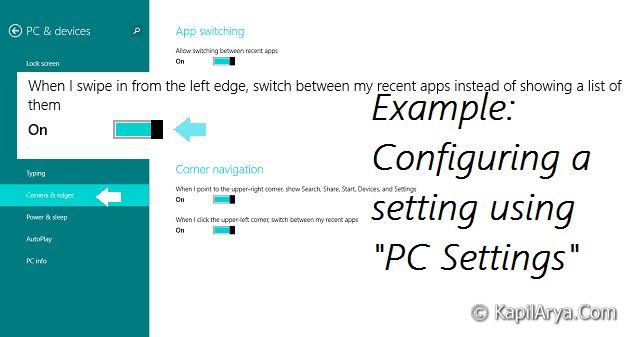 In some cases, I came to know that PC Settings appeared for sometimes and then crashes and takes the user to recent screen where he was. In either case, when the user tried to change a setting in this panel, he got redirected to Start Screen. There are many such cases around the room, where you are not able to use PC Settings at all.
I always recommend you to use less or if possible no third-party suites on your system to have less issues on it. For instance, use Windows Defender as primary security suite, which is in-built antivirus and is also free. If you use third-party apps, they possibly tweak the native files of system and thus user came around the issues like "PC Settings not working". Also I suggest you to run System File Checker scan (running SFC /SCANNOW command in administrative Command Prompt) after facing these kinds of issue, it is helpful many times.
However, if System File Checker not helped you, then repair inbox corruption using commands of mentioned in this article. You can also try the registry workshop as mentioned in following steps:
FIX : PC Settings Not Working In Windows 8/8.1
Registry Disclaimer: The further steps will involve registry manipulation. Making mistakes while manipulating registry could affect your system adversely. So be careful while editing registry entries and create a System Restore point first.
1. Press

+ R and put regedit in Run dialog box to open Registry Editor (if you're not familiar with Registry Editor, then click here). Click OK.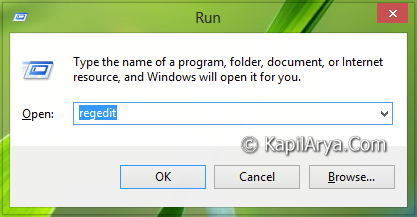 2. Navigate here:
HKEY_CLASSES_ROOT\.exe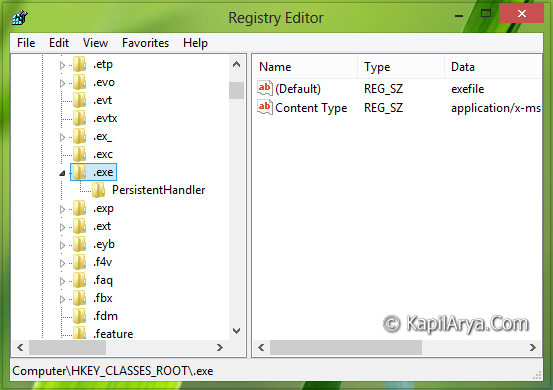 3. In the right pane of this location, make sure that the (Default) string (REG_SZ) has its Value data set to exefile. Then go to this location:
HKEY_CLASSES_ROOT\exefile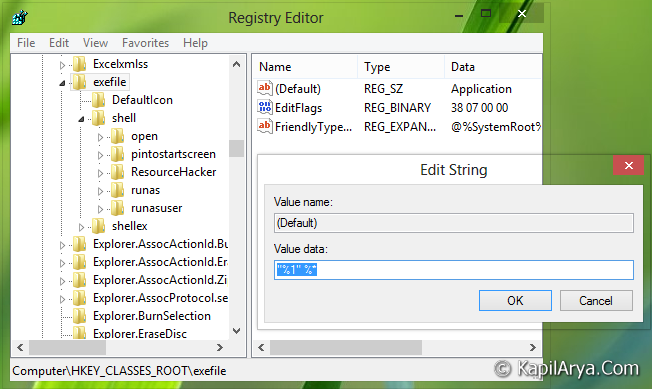 4. In the right pane of this location, double click the (Default) string (REG_SZ) and change the Value data to "%1″ %*. Click OK. Moving on, navigate to this registry location:
HKEY_CLASSES_ROOT\exefile\shell\open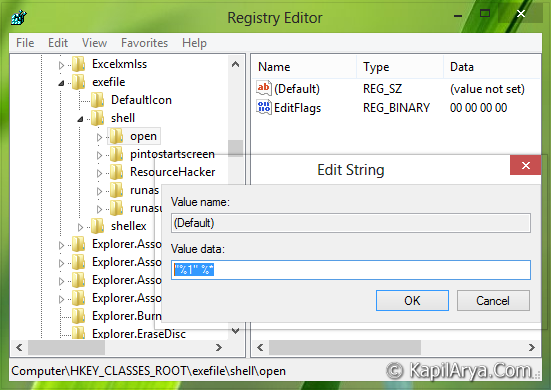 5. Similar to step 4, in the right pane, here also change the Value data of (Default) string (REG_SZ) to "%1″ %*. Click OK. Finally, close the Registry Editor now and reboot the machine. After restarting the system, your PC Settings should work fine.
Hope this helps!