In my recent articles, I have told you about various issues users are coming so far after upgrading to Windows 8.1. From my observational point of view, I found that clean install gives you less issues, however many users preferred to Windows 8 since it is available to them through Windows Store. Well, so far we've seen fixing non-working Print Spooler service, Bluetooth drivers and Windows Search service etc. on the systems running Windows 8.1 after upgrade.
Today, the issue is concerned about the main charm of Windows 8/8.1 i.e. Modern Apps. From this thread on Microsoft Community, it can be speculated that this is becoming a common issue on many systems. This shows that if you're victim of this problem, you can't use the Modern Apps at all. They are either not starting or crashing. You must first disable the third-party software on your system to verify if the issue gets solve by it.
The fix for this could be simple and straightforward if you haven't started using Windows 8.1 fully as your primary operating system, that fix is either to Refresh or Reset. But if you're using Windows 8.1 as your primary OS now, then you can try this fix to solve the problem:
FIX : Modern Apps Not Working After Upgrading To Windows 8.1
Registry Disclaimer: The further steps will involve registry manipulation. Making mistakes while manipulating registry could affect your system adversely. So be careful while editing registry entries and create a System Restore point first.
1. Press

+ R and put regedit in Run dialog box to open Registry Editor (if you're not familiar with Registry Editor, then click here). Click OK.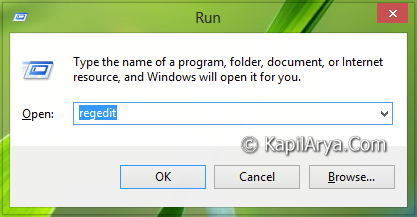 2. Navigate here:
HKEY_CURRENT_USER\Software\Classes\Local Settings\Software\Microsoft\Windows\CurrentVersion\AppModel\Repository\Packages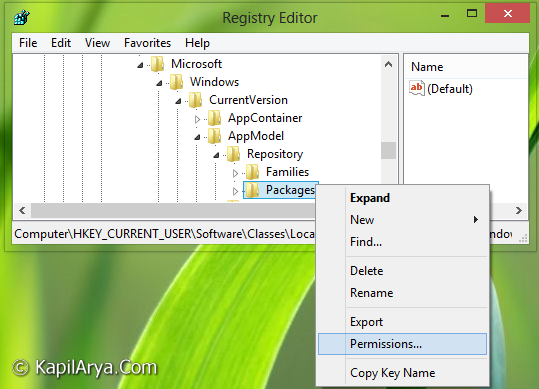 3. In the right pane of this location, right click over the key Packages and select Permissions. Now in the following window, click Advanced.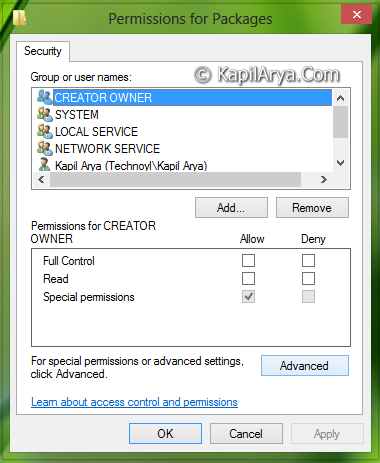 4. Moving on, in the following window, make sure you've the Owner here is the SYSTEM. If you're having this issue, you may not see SYSTEM there and you have to restore it. Click Change for latter case.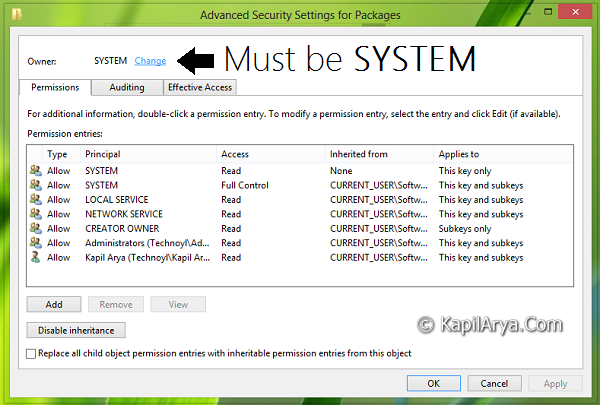 5. After clicking Change as mentioned above, enter SYSTEM here in below shown window and click Check names, your typed SYSTEM would get underlined now. Click OK.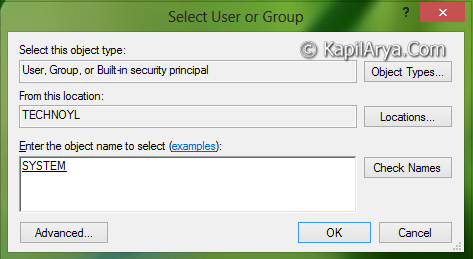 6. In this way, you can restore SYSTEM as Owner. Now click OK and Apply on the previous windows and close the Registry Editor.
7. Finally, open administrative Command Prompt and paste this command followed by Enter key:
Powershell -ExecutionPolicy Unrestricted Add-AppxPackage -DisableDevelopmentMode -Register $Env:SystemRoot\WinStore\AppxManifest.xml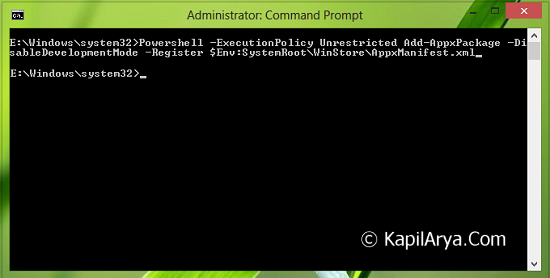 8. If you're having issues with all Modern apps, then paste this in administrative Windows PowerShell and hit Enter:
((Get-ChildItem "HKLM:SOFTWARE\Microsoft\Windows\CurrentVersion\Appx\AppxAllUserStore\InboxApplications") | Get-ItemProperty).Path | Add-AppxPackage -Register -DisableDevelopmentMode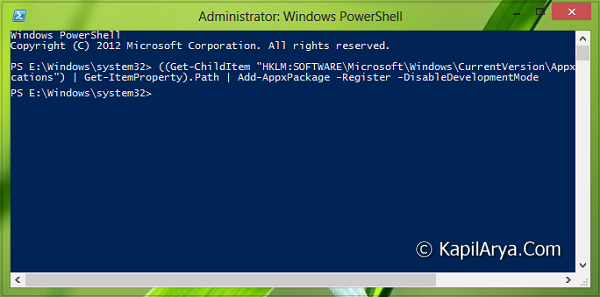 9. In case of issues concerning with third-party apps, delete this registry key:
HKEY_LOCAL_MACHINE\SOFTWARE\Microsoft\Windows\CurrentVersion\Appx\AppxAllUserStore\

[UserSID]



You can find out the [UserSID] by executing wmic useraccount get name,sid command in the administrative Command Prompt.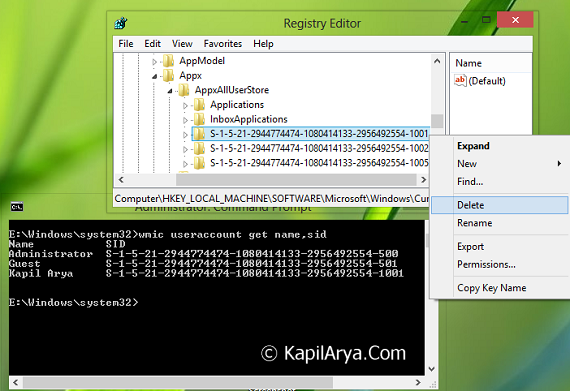 Finally! reboot the system and your issue should be fixed by now.
That's it!