There might be instances when Windows Search is not working properly on your Windows 10 system. But most of the users rarely notice it because we have tendency that if Windows Search couldn't find the item we're looking for, we start manually to dig that item. However, advanced users may if notice, would like to fix this problem. This article justifies an issue that describes similar problem.
In this case, whenever we search anything via Windows Search, following message appear at the top of search pane:
Search indexing was turned off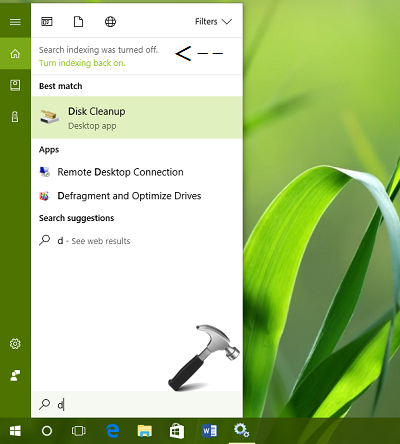 Now you may think why it was turned off and should you need to turn it On every-time I want to use Windows Search? – Not really because Windows should automatically turn on the indexing; no matter if we use Windows Search or not.
So if you're facing this issue on your Windows 10, first of all you need to run Search & Indexing troubleshooter. This built-in troubleshooter should take care of this issue positively. But in case if issue still persists, try these fixes:
FIX : 'Search Indexing Was Turned Off' In Windows 10
FIX 1 – Rebuild Search Index
1. Click on Turn indexing back on link displayed along with error message. Then in Indexing Options, click on Advanced button.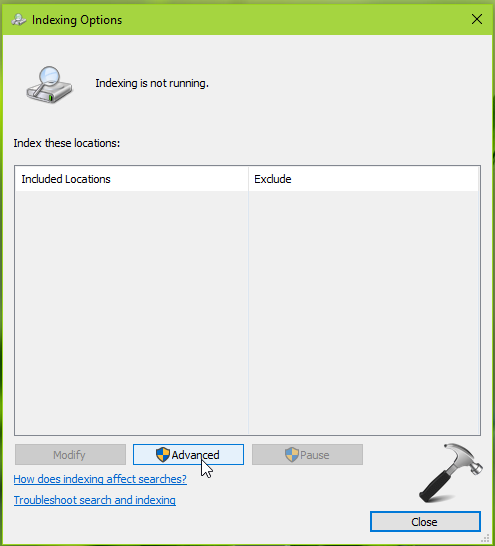 2. Next, for Advanced Options, under Troubleshooting, click on Rebuild button to delete and rebuild index.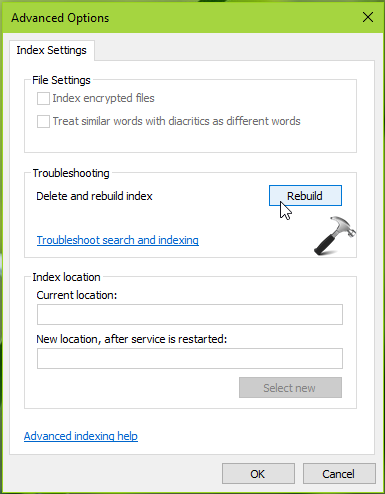 3. Since rebuilding index is time consuming process, hence confirm on the below shown message if you can continue, by clicking OK.

Wait for some time and once index is rebuild, you may try searching again and the 'Search indexing was turned off' message should no longer be displayed.
FIX 2 – Make Sure Windows Search Service Is Running
1. Press

 + R and type services.msc in the Run dialog box, hit Enter key to open Services snap-in.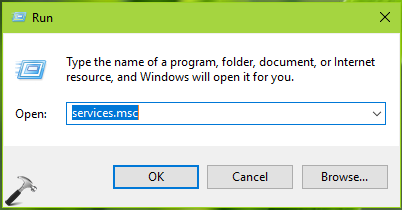 2. In Services window shown below, scroll down to look for Windows Search service. Since you're facing this issue, this service might not be Running. So right click on the service and select Start.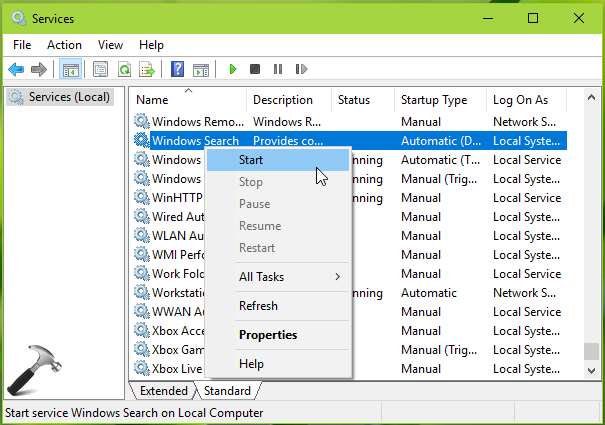 Check our fix, if you receive "The Windows Search service on local computer started and then stopped" message while start Windows Search service.
Close the Services snap-in now. Re-confirm with Windows Search and issue should be resolved now.
Hope this helps!