Recently, we told you about the Windows Phone 8.1 new features and improvements which you can read here. With the arrival of Windows Phone 8.1, we have the same Xbox Music app in our phone which was available with Windows 8.1 operating system without any variations. Actually, Microsoft has tried to provide unified experience to their users across various devices, as a result of which, we can find same apps with similar GUI for our phone and computer/laptop/tablet. Meanwhile in the Xbox Music app, today we came across following error while trying to play any song:
Sorry, we can't play this file on your phone.
Error code: 80070057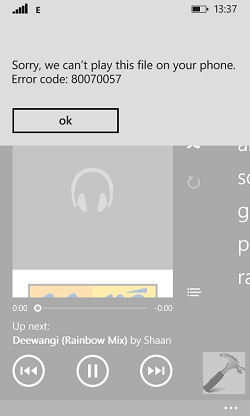 With Windows Phone 8, we had never faced this hitch, but after upgrading to Windows Phone 8.1 which brought the enhanced Xbox Music app, also brought this error. We tried to restart the app, even the phone, but this didn't fixed the issue either. Well, after playing with different options inside the Music app itself, we eventually got a working solution to fix this problem, which is mentioned here:
FIX: "Sorry, We Can't Play This File On Your Phone" In Music App In Windows Phone 8.1
1. Go to Start Screen, tap the Music app tile.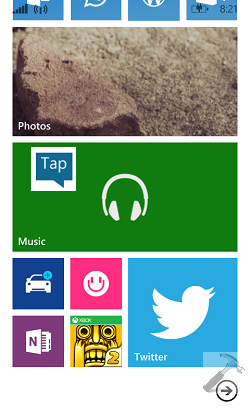 2. In the Music app screen, tap

and then tap settings option.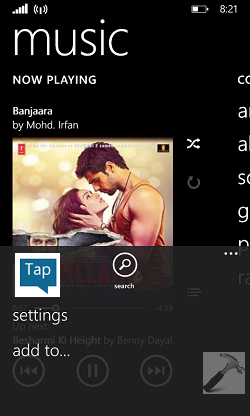 3. Finally, in the below shown SETTINGS screen for Music app, turn Off the option Show streaming music in my collection.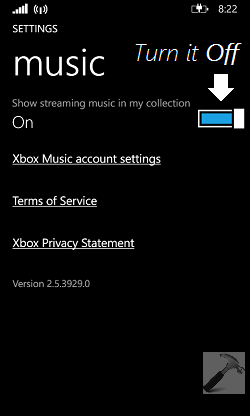 This worked for me and we hope it will fix the issue for you too!