Microsoft Access is the database management application that you receive as a component of Microsoft Office suite. It can handle various kind of database and proved very helpful when it comes to tackle lots of data. However, in case the run-time libraries required to run this application conflict other libraries of C language components installed on your system, the Access won't be able to start.
In such scenario, you're likely to receive following error:
This file association does not have a program associated with it for performing this action. Create an association in the Set Association control panel.
Else, you may receive this one which gives more hint to solve this problem:
The application has failed to start because its side-by-side configuration is incorrect. Please see the application event log for more detail.

As mentioned the conflicting file, C:\Program Files\Microsoft Office\Office15\MSACCESS.EXE.Manifest may have issues with other files located on your system. Also when you see the error logs, you'll find there are two sub-component files which are actual root cause for this problem.
So without going much depth in technical, here are the easiest steps you have to follow in order to fix this hiccup:
FIX : The Application Has Failed To Start Because Its Side-By-Side Configuration Is Incorrect
Registry Disclaimer: The further steps will involve registry manipulation. Making mistakes while manipulating registry could affect your system adversely. So be careful while editing registry entries and create a System Restore point first.
1. Press

+ R and put regedit in Run dialog box to open Registry Editor (if you're not familiar with Registry Editor, then click here). Click OK.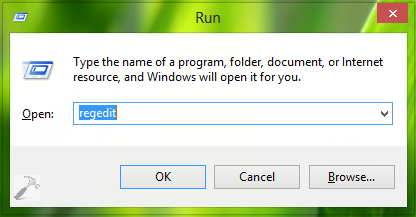 2. In the left pane of Registry Editor window, navigate here:
HKEY_LOCAL_MACHINE\SOFTWARE\Microsoft\Windows\CurrentVersion\SideBySide\Winners\x86_policy.9.0.microsoft.vc90.crt_1fc8b3b9a1e18e3b_none_02d0010672fd8219\9.0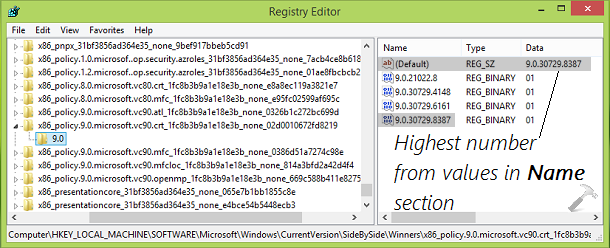 3. In the right pane of 9.0 key, you must be able to locate (Default) named registry string (REG_SZ). Double click on this registry string and you'll get Edit String box shown below. Put its Value data as the highest number that is available in Name section. In our case, as you can see its 9.0.30729.8387. However, in your case it may be different number but just remember that you've to put highest number among Name column, whatever it is. Click OK.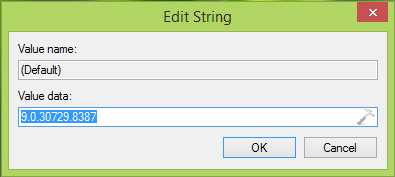 You may now close Registry Editor and reboot the machine, try to start Microsoft Access then. You'll find that this time Access start without any issue or error message.
That's it! Go here to check how to show or hide total editing time in Office 2013.