Not even a single day passes by, on which I do not use Microsoft Office on my system. There may be same situation with many of you. PowerPoint is the best Microsoft Office component for me so far and I use it a lot. Recently, Microsoft has released some update packages for latest PowerPoint 2013 which fixes various issues in this component. The Redmond giant has confirmed that there are some issues in the native release of PowerPoint which users are continuously experiencing. To fix out the woes, they have released the patched update about which we'll discuss in this article. However, the update was released last year, but in case if you've recently installed Office or missed the update, you can get it via links given at the end of this article.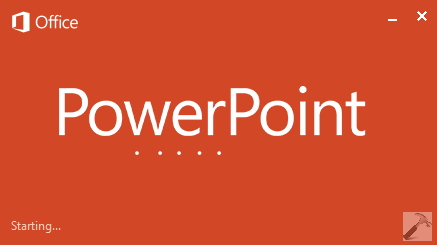 According to the KB2817625, the update is intended to fix out the flaws in the both the 32-bit and 64-bit editions of PowerPoint 2013 and Office Home and Student 2013 RT. The update will also provide an upgraded order of stability and thus will enhance the performance. Talking about my personal experience with PowerPoint 2013, when I try to start the slide show on an externally connected projector from my laptop, it always crashes and tends to restarting of projector in an infinite loop. After getting the update, the issue was resolved hopefully.
Now lets see, what fixes this update is offering to us:
FIX: Various Issues With PowerPoint 2013 Using Microsoft Update
On 32-bit PowerPoint 2013, the images inside the slides on thumbnails were not shown properly, instead you have Red X
On playing a slide show on extended monitor, text becomes pixelated (DPI issue)
Animations icons in slide sorter view are not displaying
Microsoft Office 2013 tiles are not displaying correctly on Windows 8.1 Start Screen
After extending DPI scaling beyond 200 percent, themes, titles and content placeholders becomes fuzzy
On touch devices, tapping while Slide show is running takes you to next slide instead of toolbar
So these are the issues which the update is released to fix out. You can download the update package and install manually using following links:
DOWNLOAD LINK [32-bit]
DOWNLOAD LINK [64-bit]
Hope update fixes the issues you were facing!
See Also: