We all know, Windows Security (earlier Windows Defender) provides real-time protection in Windows 10. Actually Windows 10 uses different level of protection for apps and data. Following that, Windows Security uses signatures to detect and quarantine apps, which can be malicious or harmful for your device. All this is done in real-time and hence you should have virus protection enabled on your device for that.
Just imagine, you log in your system and you immediately receive a notification saying:
Virus protection is turned off. Tap or click to turn on Windows Defender Antivirus.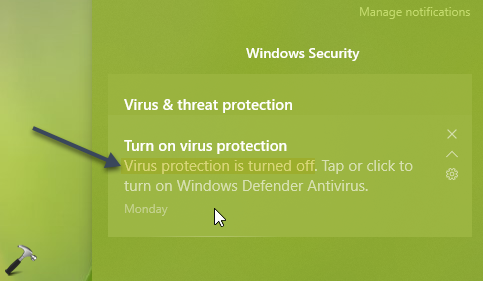 You then clicked on the notification and it simply opens Windows Security screen but you don't know how to proceed from here. In either case, it may also possible that you've all settings configured, and you still receive the notification. In this article, we'll see how to reassure all the settings so that you stay protected and this notification do not appear again.
FIX: Virus Protection Is Turned Off In Windows 10
FIX 1 – Make Sure Windows Defender Antivirus Is Turned On
As you see the notification, first of all you need to make sure that Windows Defender Antivirus (WDA) is turned on. If you install third-party AV software and even uninstall it, you may still have WDA disabled or turned off. If it is off, you're supposed to receive the notification for same.
You can follow our guide to turn on Windows Defender Antivirus:
Steps to enable Windows Defender Antivirus in Windows 10
FIX 2 – Ensure That Real-time Protection Is Enabled
Secondly, you need to check if real-time protection is enabled for Windows Security. This is the protection help you to safeguard your system and alert you, when any malicious app or data enter the system. You can follow our detailed guide to turn on real-time protection.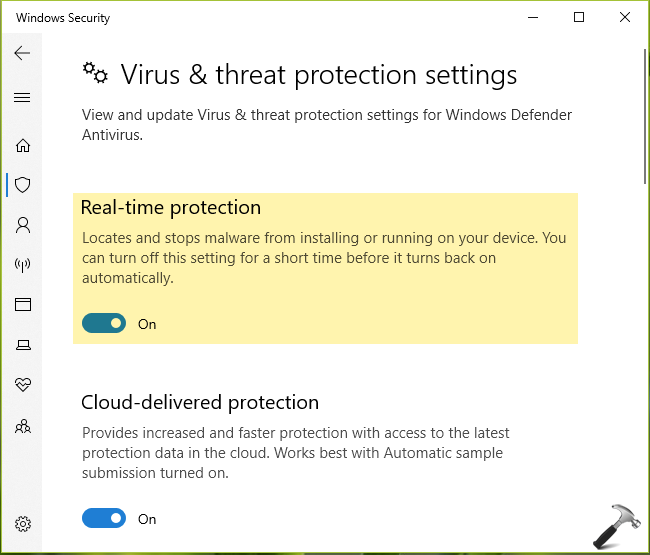 When you're on Virus & threat protection settings page, please ensure that all protections are turn On, including the Tamper protection.
After enabling these settings and reboot, and you would no longer receive Virus protection is turned off notification.
Hope this helps!