Recently, we've shared you following article which provides step-by-step instructions to restore System Image:
How to restore System Image in Windows 10
Following the above mentioned guide, in case if Windows fails to detect the System Image, you won't be able to restore it. We recently came around this issue when one of our system failed to recognize the System Image it created earlier. It keeps displaying following message:
Windows cannot find a system image on this computer
Attach the backup hard disk or insert the final DVD from a backup set and click Retry. Alternatively, close this dialog for more options.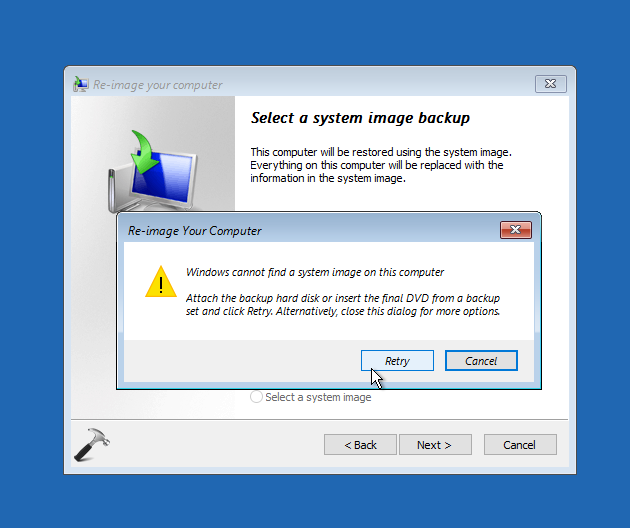 If you're also facing this issue on your system, try below mentioned suggestions and see if they helps.
FIX: Windows Cannot Find A System Image On This Computer
1. First of all, make sure you're using same Windows operating system System Image to restore. For example, a Windows 7 created System Image won't restore for Windows 10 running machine.
2. Make sure you've not made any changes WindowsImageBackup folder. The changes including renaming the WindowsImageBackup folder plus sub-folders, adding sub-folders additionally, or any kind of modification to WindowsImageBackup folder is not solicited. These changes may lead to non-recognition of System Image.
3. Try this trick and see if it helps you. Suppose the image to restore is ABC, so now you try to create temporary secondary image XYZ. Now replace the backup folder contents of XYZ image from ABC and check if you can restore XYZ now.
4. If you're using external USB drive, make sure WindowsImageBackup folder is not in the root of the USB drive.
5. The System Image restoration process runs in repair mode. Due to this reason some of the USB ports won't recognize at the moment and lead to this situation. So you must try another USB port using which you can restore System Image.
If above point doesn't helps or if your System Image is corrupted, you may need to create need to create another System Image or you can try another recovery options such as System Restore.
Hope something helps!