Recently, a sudden problem with Windows Search was discovered with Windows 10. Many users reported that Windows Search was showing empty box, and nothing is shown so they can't perform search. Below screenshot illustrates this situation: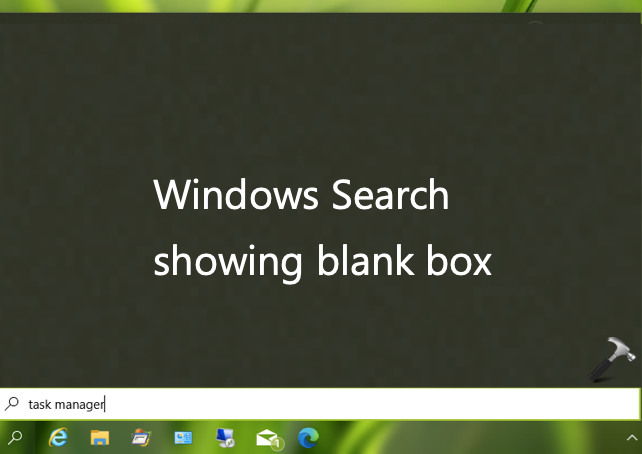 One can understand the pain when Windows Search is not working on the system. You may not be able to locate the specific item which you need for your work. Additionally, you may need to waste time to identify the content of your use. However, Microsoft released a statement and company said it was a server-side issue which has been fixed with some small updates. Company advised users to restart their system which could completely fix the issue.
But still in Microsoft and other third-party forums, users are reporting this problem. It seems the issue didn't fixed for them. So in case if you're also facing this problem at the moment try the below mentioned fix.
FIX: Windows Search Not Working In Windows 10
If the patch offered by updates didn't resolved the issue, you need to manually end the background processes for Windows Search. The SearchUI.exe is one of significant process for this case. Assuming Windows is installed on C: drive, it is located under C:\Windows\SystemApps\Microsoft.Windows.Cortana_cw5n1h2txyewy. Although the process remains suspended all the time and starts running only when you click on search icon on taskbar or perform search somewhere else in Windows. If you don't find SearchUI.exe, you must spot SearchApp.exe process then.
1. Press Ctrl+Shift+Esc keys, or right click on taskbar and select Task Manager.
2. In Task Manager, switch to Details tab. Scroll down and locate SearchUI.exe or SearchApp.exe process and then click on End task button.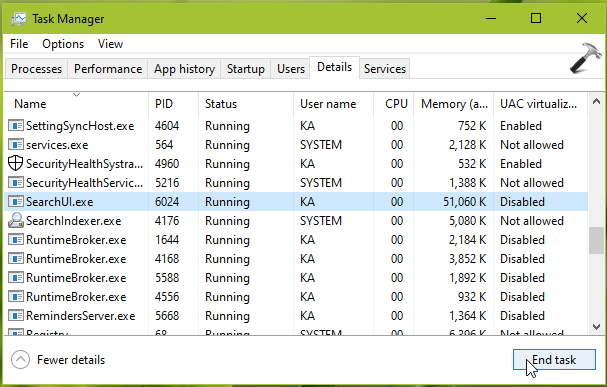 3. Close Task Manager and restart your system.
Check the status of problem after rebooting and it should be resolved now. Drop a comment, if it isn't.
Hope this helps!
Related: Desktop Search Not Working After Installing KB4512941.