We all know that Windows Security (earlier Windows Defender) is in-built primary system protection comes with Windows 10. As it comes integrated with operating system, you can open its specific protection areas using the Settings app. Simply go to Settings app > Update & Security > Windows Security and you can launch Windows Security/Defender directly from there.
But if your system is affected with some malware or something like that, the link to open Windows Security and its protection areas will not be working. Under this situation, you may see this generic message when you try to open any of the section of Windows Security:
You'll need a new app to open this windowsdefender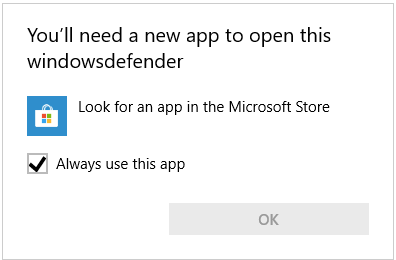 This simply shows that Windows Security app is broken and hence the link somehow not working. Of course, there is no app in Microsoft Store to handle this app. If you are also victim of this issue, try below mentioned suggestions and see if they helps.
FIX: You'll Need A New App To Open This WindowsDefender
FIX 1 – General Suggestions
1. Run System File Checker scan.
2. Completely remove third-party AV program, if you've installed it currently or previously on the system.
3. There is a possibility that the issue might be caused by malware. Scan your system well known malware removal tool. Some of these tools may work fine with Windows Security and helps you to remove malware instantly from your system.
4. Perform clean boot.
5. Try additional suggestions mentioned in FIX 1 of this article.
FIX 2 – Via Windows PowerShell
If FIX 1 doesn't helped you, try to re-register the Windows Security app using these steps:
1. Right click Start Button or press

+ X keys and select Windows PowerShell (Admin).
2. In administrative Windows PowerShell window, type/paste following and press Enter key:
Add-AppxPackage -Register -DisableDevelopmentMode "C:\Windows\SystemApps\Microsoft.Windows.SecHealthUI_cw5n1h2txyewy\AppXManifest.xml"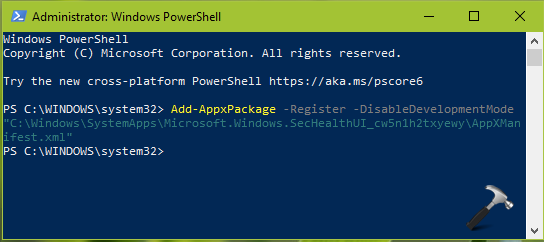 3. Let the code executed and you'll see deployment progress for this. Once the execution is completed, you can close Windows PowerShell. Now attempt to open Windows Security/Defender and it should work fine this time.
Hope this helps!
Also see: How to turn on/off real-time protection in Windows Security/Defender.