As we all know, Windows 8 introduced the Lock Screen feature last year, and now this feature has got improved in newly released update i.e. Windows 8.1. In Windows 8.1, you can enable a slide show for Lock Screen. For this to be worked out, you can make its setup very easily from the PC Settings screen. Here is how you can manually configure Windows 8.1 Lock Screen to display slide show: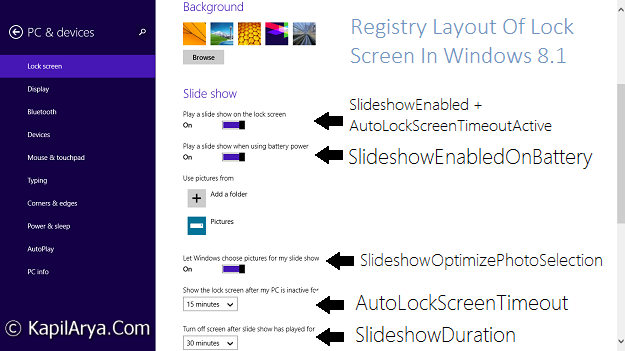 From the above image and article title, I am going to show you the registry way to configure the slide show. Registry way, obviously overrides the manual way and is non-configurable by normal users, who can disturb the settings you've made. So, here is the method involving registry modification:
How To Configure Lock Screen Slide Show In Windows 8.1
Registry Disclaimer: The further steps will involve registry manipulation. Making mistakes while manipulating registry could affect your system adversely. So be careful while editing registry entries and create a System Restore point first.
1. Press 

 + R and put regedit in Run dialog box to open Registry Editor (if you're not familiar with Registry Editor, then click here). Click OK.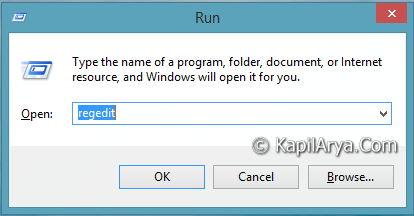 2. Navigate here:
HKEY_CURRENT_USER\Software\Microsoft\Windows\CurrentVersion\Lock Screen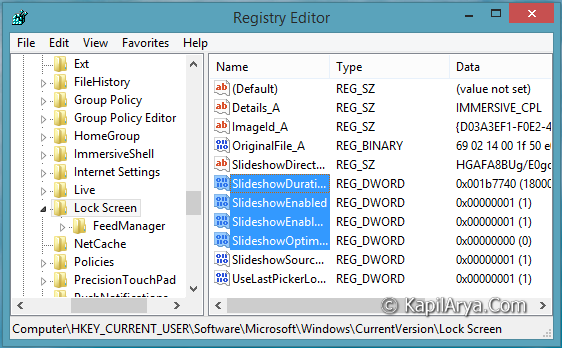 3. In the above mentioned location, for the right pane, your window should have above shown highlighted DWORD entries (refer screenshot). The Value data for these DWORDs handles the configuration for slide show of Lock Screen.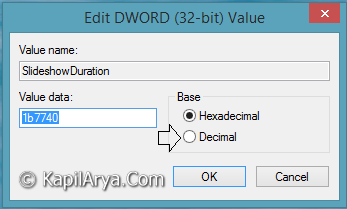 4. Double click on the DWORDs and edit their corresponding Value data as per you desire the slide show to display:
DWORD : SlideshowEnabled – Play a slide show on the Lock Screen
Value data : 0 = Off | 1 = On
DWORD : SlideshowEnabledOnBattery – Play a slide show when using battery power
Value data : 0 = Off | 1 = On
DWORD : SlideshowOptimizePhotoSelection – Let Windows choose pictures for my slide show
Value data : 0 = Off | 1 = On
DWORD : SlideshowDuration – Turn off screen after slide show has played for
Value data (Decimal) : 1800000 = 30 minutes | 3600000 = 1 hour | 10800000 = 3 hours | 0 = Don't turn off

After inputting your preferred Value data, click OK.
5. Now, locate this key:
HKEY_CURRENT_USER\Control Panel\Desktop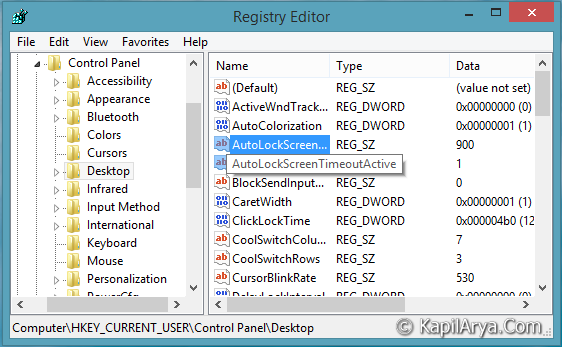 6. In the right pane of this location, double click the highlighted strings and put corresponding Value data according to your requirement:
String : AutoLockScreenTimeoutActive – Play a slide show on the Lock Screen
Value data : 0 = Off | 1 = On
String : AutoLockScreenTimeout – Play a slide show on the Lock Screen
Value data : 60 = 1 minute | 120 = 2 minutes | 300 = 5 minutes | 900 = 15 minutes | 1800 = 30 minutes | 3600 = 1 hour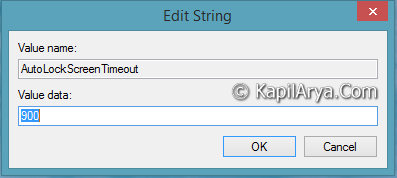 After pasting the required value, click OK.
Please note that SlideshowEnabled (DWORD) and AutoLockScreenTimeoutActive (String), both must have Value data equals to 1 in order to display slide show. In this way, slide show for Lock Screen is configured using registry.
That's it! Also see how to configure desktop slideshow in Windows.