Narrator is a part of Ease of Access feature in Windows and is quite helpful for physically challenged people. We appreciate Microsoft's decision to include this feature in their OSes so that the users having poor eyesight can hear the words for selected items on Desktop. This can also be called as text to voice converter in which program reads word-to-word for selected content. Read all about narrator in following support article:
How to use Narrator in Windows?
To start narrator, you just need to press

+ Enter keys simultaneously. Once you press these hotkeys, narrator will start automatically. Some of the users may not want to let narrator start when they press these keys. If you also want to disable functionality of Windows such that narrator won't start by pressing hotkeys, you can try this simple, working and quick registry manipulation:
How To Disable Hotkeys For The Narrator In Windows 10/8.1/8/7
Registry Disclaimer: The further steps will involve registry manipulation. Making mistakes while manipulating registry could affect your system adversely. So be careful while editing registry entries and create a System Restore point first.
1. Press

+ R and put regedit in Run dialog box to open Registry Editor (if you're not familiar with Registry Editor, then click here). Click OK.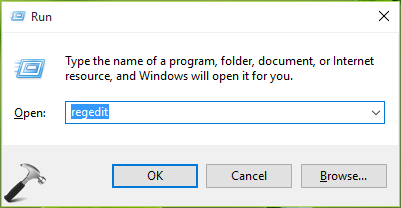 2. In the left pane of Registry Editor, navigate to following registry key:
HKEY_LOCAL_MACHINE\SOFTWARE\Microsoft\Windows NT\CurrentVersion\Image File Execution Options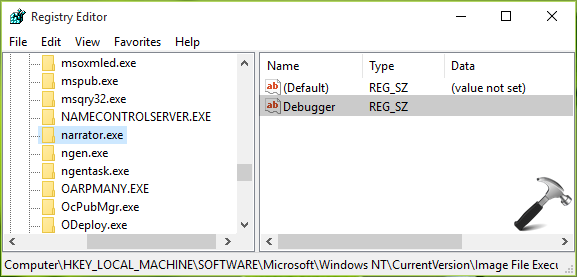 3. At this registry location, right click Image File Execution Options key and select New > Key. Name the newly created sub-key as narrator.exe. Now highlight narrator.exe key (HKEY_LOCAL_MACHINE\SOFTWARE\Microsoft\Windows NT\CurrentVersion\Image File Execution Options\narrator.exe) and come to its corresponding right pane. Do a right click in the blank space and select New > String Value. Name the string so created as Debugger. Double click on same string to modify its value: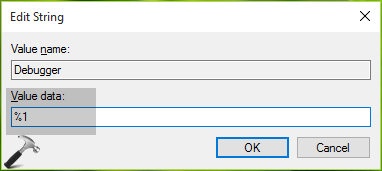 4. Finally, put the Value data as %1 and click OK. Close Registry Editor and restart machine. After a reboot, when settings are in effect, you'll find that pressing

+ Enter no longer launches narrator now.
That's it!