Windows PowerShell is one of the core Windows features that deeply penetrates to configure the settings available within the operating system. Every Windows OS have a built-in version of Windows PowerShell. So as the application of this, Windows 8 provides users to explore Windows Powershell 2.0.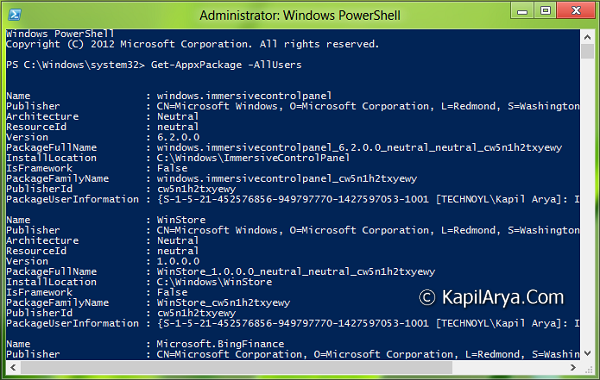 You can easily understand the working and effectiveness of Windows PowerShell, which is the only way to remove Modern Apps. Here is the demo article:
Uninstall & Completely Erase All Pre-Installed Modern Apps From Windows 8
Now concentrating on the title, in this article, I'm going to share you the way to disable the feature of Windows PowerShell. Of course, this will come handy to the multi-users Windows 8 copies. In case you don't let your normal users (other than standard ; most probably child accounts) to make any modification to OS, provided you're the admin of your Windows 8 device, then disabling Windows PowerShell is the safest bet.
So without wasting any more time, let us see the how-to part.
How To : Disable Windows PowerShell In Windows 8
1. Firstly, head on to the Modern Screen, then press

 + Q, then input windows features in the search field.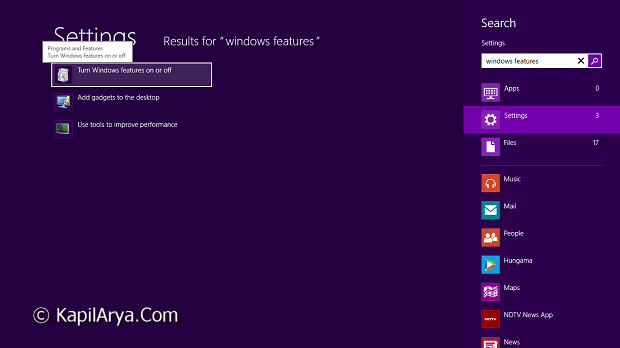 2. From the results, click on Turn Windows features on or off. You'll be taken to following window: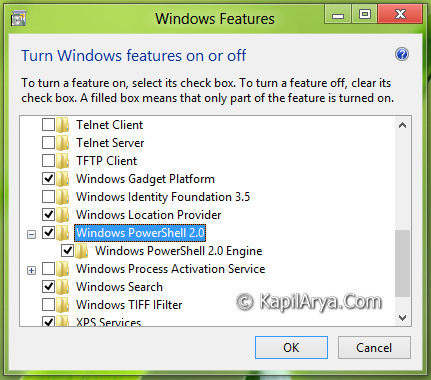 3. From the drop down list, remove checks from Windows PowerShell 2.0 and Windows PowerShell 2.0 Engine. Finally click OK. Done!
So eventually this disables the PowerShell feature immediately from Windows 8 but remember that it doesn't uninstall the feature. Unfortunately, there is no way to completely uninstall without leaving its traces. The reason behind it is the built-in program methodology. For the very same reason, Internet Explorer 10 can be disabled from Windows 8 but can't be uninstalled.
Hope you find the tip useful!