If you're managing a system with multiple users and you need to disable user account without deleting it, this article is for you. Windows provides you the facility to disable an user account so that it can no longer be signed in or switched to.
Unlike deleting user account completely, disabling the user account preserves the user account data, which should be readily accessible when user account is enabled again.
Here is how you can enable or disable users account on your Windows 10.
How To Enable/Disable User Account In Windows 10
Method 1 – Via LUSRMGR Snap-in
FYI: This method will only work in Windows 10 Pro, Education and Enterprise editions. For other editions, refer Method 2 below.
1. Press

+ R and type lusrmgr.msc in Run dialog box to open Local Users and Groups snap-in. Click OK.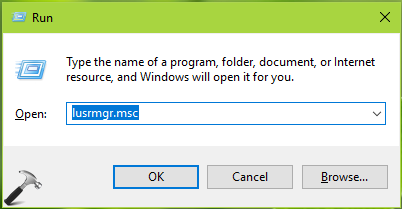 2. In the lusrmgr window, double click on Users. Now right click on the user account you want to disable and click Properties.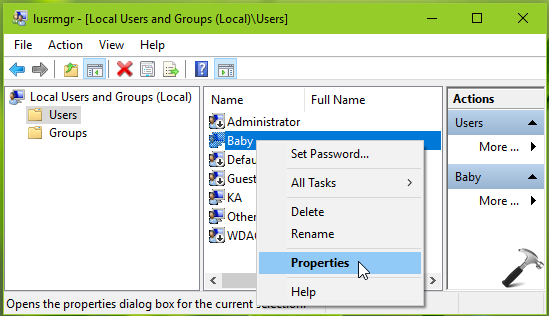 3. On the property sheet, check the Account is disabled option. Click Apply followed by OK.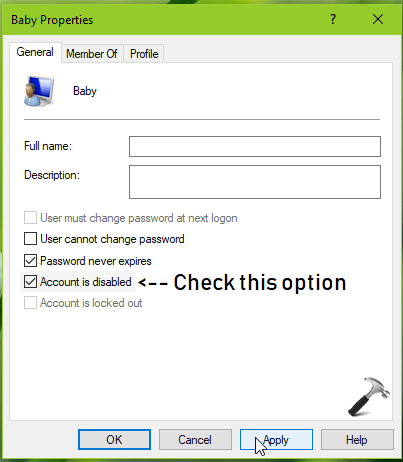 This should disable the user account now. The account will no longer be visible at login screen, which is proof the active is deactivated.
Method 2 – Via Command Prompt
You can also use Command Prompt to disable user account.
Please follow these steps:
1. Right click Start Button or press

+ X keys and select Command Prompt (Admin) to open Command Prompt as administrator.
2. In administrative Command Prompt window, type net user and press Enter key.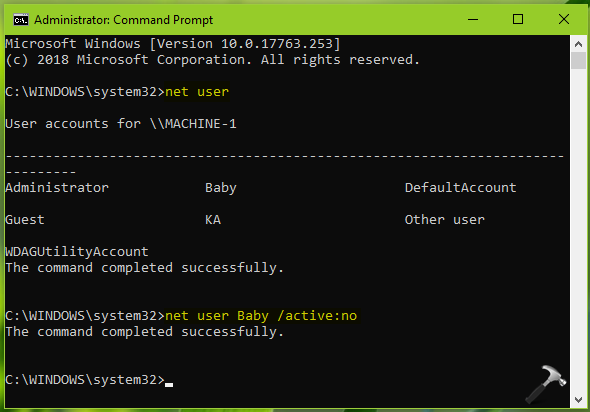 3. Then type following command and press Enter key:
net user 

<ACCOUNT NAME>

 /active:no
*Make sure you replace <ACCOUNT NAME> with actual user account name to disable.
The command completed successfully message in return confirms that selected user account is disabled now.
———
To activate the disable user account later, simply uncheck Account is disabled option  or execute net user <ACCOUNT NAME> /active:yes command in Command Prompt, where <ACCOUNT NAME> must be substituted with actual user account to activate.
———
That's it!