If battery on your Windows 10 running laptop is not working correctly, you can calibrate it to solve such kind of problems. Calibration is a process which resets battery gauge so that it will correctly display the power levels. Under following conditions, you'll be suggested to calibrate battery on your laptop:
Battery charge levels are reported incorrectly
Battery drains faster than expected
To increase battery life
Apart from above points, when you bought new battery, you'll be often suggested to calibrate the battery so that the battery will work perfectly.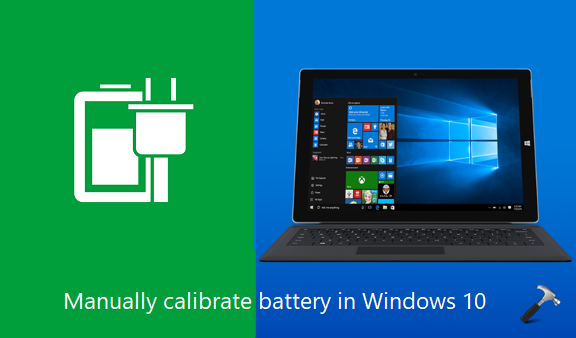 In this article, we'll show you how you can manually calibrate battery and fix issues with it, yourself.
How To Manually Calibrate Windows 10 Laptop Battery
Calibration of battery involves four major steps mentioned below.
1. Charge your system battery
First of all, plug in your system to AC power and let it charge to 100%. Track the progress of battery charge via battery icon present on the right side of taskbar. See this fix, if battery icon is missing from taskbar. Once the battery icon displays 100% charged, disconnect AC power.
2. Discharge your system battery
Now as your system is 100% charged, you have to use it extensively so that it will be completely discharged. You can perform tasks like running a scan of your computer, or watch a movie that will consume more battery and drain it. Once your battery is completely discharged, your system will shut down.
3. Charge your system battery again
Plug in the power cord and let the system will charge 100%. The battery can even charge if your system is turned off. If you like, you can turn it on so that you can accurately track how much battery is charged, via battery icon, and disconnect charger as soon as the system is 100% charged.
4. Run battery test
Now you'll get more accurate reading of your system battery. As the battery is calibrated now, you should reset your power plan to default setting. Also, if you like, you can additionally perform a battery test. You can head over to your device manufacturer's website and try the steps they've suggested to run battery test. You can use your favorite search engine to find the documentation for battery test from your device manufacturer.
We believe, after calibrating your battery, the issue with it will be resolved. Along with this battery life will also increase. It is often recommended that you perform battery calibration once, if you again see incorrect battery levels reported.
That's it!