Whenever Microsoft releases a beta version (testing build) or service pack of Windows, a watermark is shown on the desktop mode of this Windows. This concept is also applied to newly released Windows 8 Consumer Preview (Beta) which will be followed by Windows 8 stable release and its further updates.
Windows 8 Beta, by default shows following watermark:
Windows 8 Consumer Preview

Evaluation copy. Build 8250
Most of users asked the way to remove /edit this watermark. The reason is clear that the watermark is of no use and is annoying. So to help you all on this issue, I am going to share a free tool. This tool is named as "My WCP watermark editor".
My WCP watermark editor can easily remove or edit the watermark on your wish. Following is the screenshot of condition of Windows before and after using this tool.

Here is how to use this tool:
How To : Remove Or Modify The Watermark (Build Number Info) In Windows 8
Step 1 : Download My WCP watermark editor using below link:
Step 2 : Run the downloaded file using administrative privileges.
Step 3 : When you run the tool, following window is shown: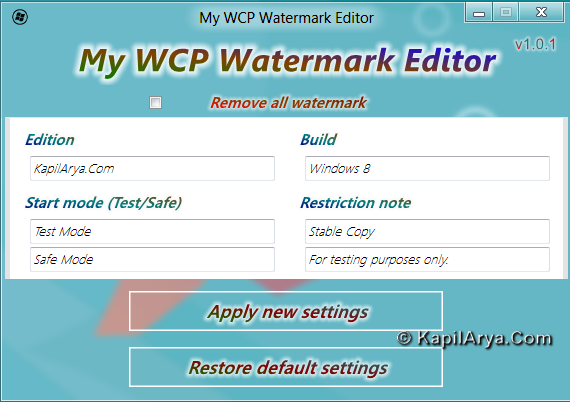 Here, the Edition Field shows upper line of watermark. Default is Windows 8 Consumer Preview.
Build field shows second half of second line of watermark. Default is Build 8250.
The Restriction note here shows first half of second line of watermark. Default is Evaluation copy. In this field, put something that doesn't contains slug 'copy'.
Start mode simply notifies whether you are using Windows in safe or not. Recommended to keep it unchanged.
To remove the watermark, check the Remove all watermark option.
Once you're done click Apply new settings.
Step 4 : Reboot the PC. Navigate to personalization window and change the theme. That's it. Now your modified watermark is shown up or no watermark is shown if you removed all watermark in previous step.
Hope this help you to deal with watermark.
PS : I would recommend to create a "System Restore" point before using this tool. So that if anything goes wrong, we have the back option.
NOTE : This tool also modifies the information in System Properties and About Windows prompt.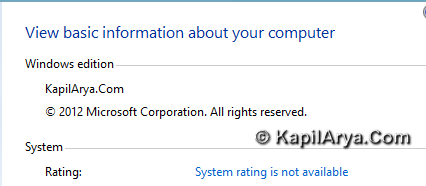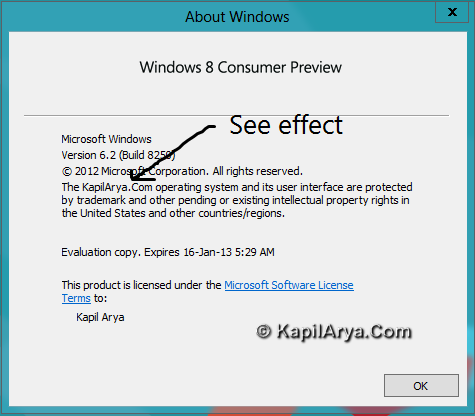 Hope you find the article useful!