Reset is one of the leading new feature introduced in Windows 8 or 8.1. It works in the same sense as it is named. It can be used to completely remove the data comprising all apps, and settings from the PC residing in the Windows root drive. This works in the same sense as the factory resetting a device option works, but little bit faster than it. The Reset option is the next tool in solving an issue regarding Windows 8 if it is not fixed by Refresh. The Reset feature follows this scheme: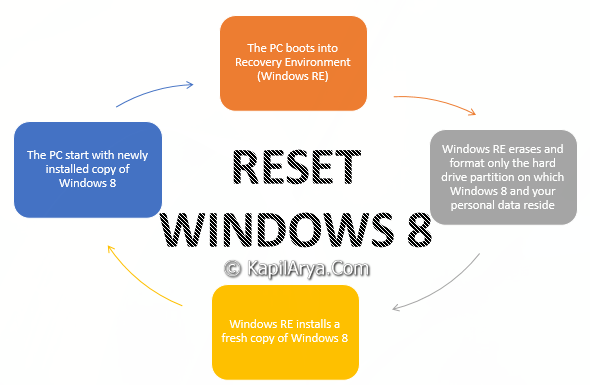 The basic and foremost requirement to Reset Windows 8 is that you must be logged in as administrator. Now before moving to the how to part, lets see what will be affected on your system and what not.
Settings That Will Remain Unaffected
Resetting Windows 8 means to have a fresh copy of Windows on your computer. Frankly speaking, it will reset the drive and will remove all the data associated with the drive. Its simply the re-installation of Windows 8. Before proceeding for Reset, back up of files is cool idea!
Settings That Won't Be Preserved
There may be the scenario that you have data associated with Windows 8 on other drives as well. However, resetting provides you the option to choose which drive to start reset with. So it doesn't affect that drive which don't have any operating system on it and just bears the data associated with Windows 8, provided you do no select to that drive while resetting (step 3).
Now, without wasting your time anymore, lets see how to part:
Reset Windows 8.1 Within Windows 8.1
1. Press 

 + W and type reset or refresh in the search box. From the search results, pick Remove everything and reinstall Windows.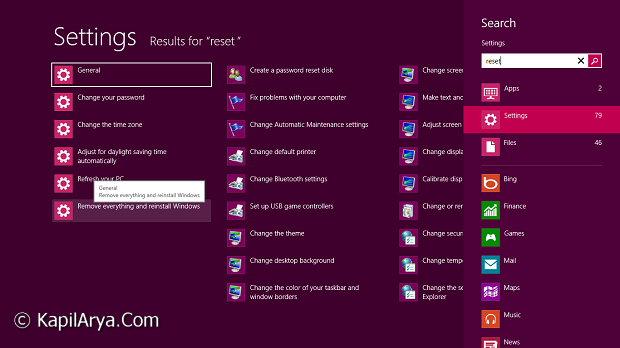 2. Now you'll see following window, click Next.