In Windows 8, Refresh and Reset are the most useful while tools in repairing the Windows copy. But if you're using Windows that you have installed yourself or that is not came pre-installed from OEM, then you may need the installation disc to use these tools. While using any of these tools, you may be stopped with the following message:
Some files are missing. Your Windows installation or recovery media will provide these files.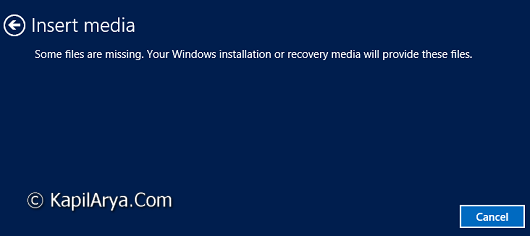 As you can see in the above image, you need Windows installation disc or recovery media to proceed further. But what if you don't have either of them? Well, a simple workaround will made your Windows 8 to Reset or Refresh without using either of installation disc.
In this article, we will provide this solution to you. Before proceeding, you will only need setup or ISO image of Windows 8. We hardly suggest you to create System Restore point prior to making any changes. Now lets see the how to part:
How To Reset Or Refresh Windows 8 Without Installation Disc
1. Refer to the system root drive, on which Windows is installed, usually its C: drive. Create a new folder there and name it Refresh. Provide the necessary administrative privileges if asked.
2. Now, go to the Windows 8 setup and locate the Sources folder there. Inside this folder look for install.wim file. Copy this install.wim file to Refresh folder created in previous step.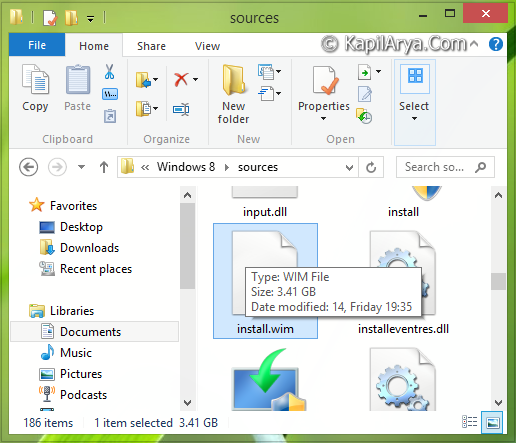 3. Moving on, open the administrative Command Prompt, copy and paste the following command followed by Enter key:
reagentc /setosimage /path C:\Refresh /target C:\Windows /index 1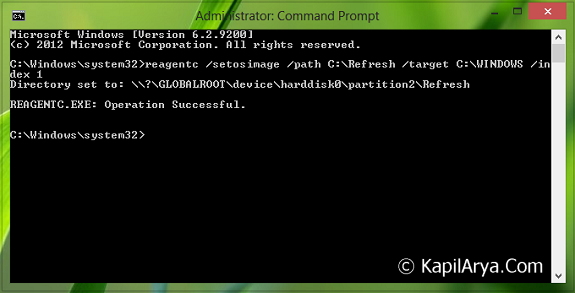 That's it! Now you can try to Refresh or Reset Windows 8 without installation disc. If you want to make Windows 8 to set its default property that is to do Refresh or Reset with installation disc as in case you are able to arrange it, then follow these steps:
Revert To Refresh Or Reset With Installation Disc
1. Navigate here:
C:\Windows\system32\Recovery
2. Inside this location, you'll find the ReAgent.xml file, right click on it and select Open with -> Notepad.