By default, Windows uses following network priority order:
This means Windows always prefer to connect to Ethernet first, when available. Although users can still select the network connection type they want to use. But it is seen that if you're connected to wireless/WiFi connection and then you connect to wired/Ethernet connection, wireless/WiFi connection is automatically disconnected. Sometimes users may have requirement to use both wired and wireless connection at same time. This article will help you to achieve this aim.
According to Microsoft, fMinimizeConnections is the Group Policy setting that you can configure to enable multiple connections at same time in Windows 10. This policy setting helps to identify if your system can have multiple connections and if possible, allow the machine to do that. Once the policy determined that your system can have multiple connections, it then takes care of how network traffic is routed.
So in case if you want to use wired and wireless connections at same instance, you need to perform this simple registry manipulation:
How To Use WiFi And Ethernet At Same Time In Windows 10
Registry Disclaimer: The further steps will involve registry manipulation. Making mistakes while manipulating registry could affect your system adversely. So be careful while editing registry entries and create a System Restore point first.
1. Press

+ R and type regedit in Run dialog box to open Registry Editor (if you're not familiar with Registry Editor, then click here). Click OK.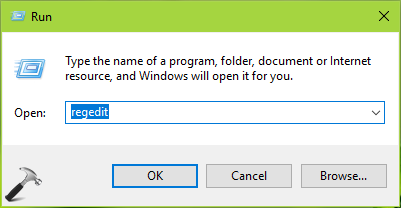 2. In left pane of Registry Editor window, navigate to following registry key:
HKEY_LOCAL_MACHINE\Software\Policies\Microsoft\Windows\WcmSvc\Local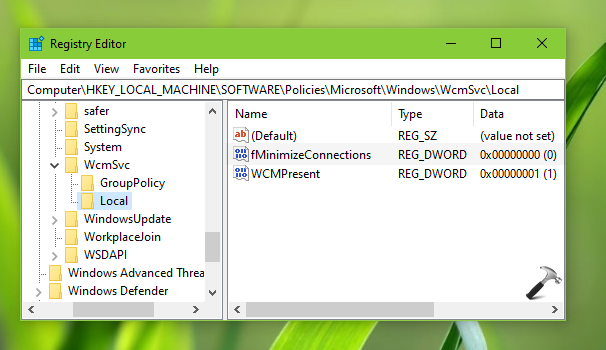 3. Now in the right pane of Local registry key, right click and select New > DWORD Value. Name this registry DWORD (REG_DWORD) as fMinimizeConnections and let its Value data set to 0.
4. Close Registry Editor and reboot to make changes effective. After restarting your system, you'll see that both wireless and wired network connections are active atm.
FYI: This method may not work with Windows 10 V1903. Please refer to comments mentioned below for workaround.
That's it!
Related: How To Change The Network Connection Priority In Windows 10.