Trusted Platform Module (TPM) chip is a secure crypto-processor, designed to carry out cryptographic operations on your system. Basically, TPM chip is more of the hardware part, however it has a greater responsibility for your Windows 10 software too!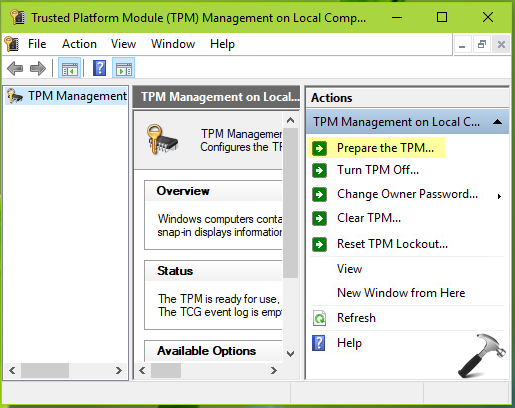 In this article, we'll see how you as a Windows 10 end user got benefited from TPM. It is not just another chip to tie your login or BitLocker PIN. Yet, it can perform the many other security operation needed to make your computing safer.
Importance Of TPM For Windows 10 End Users
First of all, let us see how many Windows 10 features relies on TPM. Here is a list of them:
BitLocker
Credential Guard
Windows Hello/Windows Hello for Business
Device Encryption
Windows Defender Application Control
Windows Defender System Guard
UEFI Secure Boot
Certificate storage
Virtual Smart Card
Autopilot
Measured Boot
Device Health Attestation
DRTM
SecureBIO
Majority of the above mentioned features require latest TPM 2.0. Since year 2016, Microsoft set a guideline for the system manufacturers across globe to install and enable TPM 2.0, by default. As per Microsoft, the TPM 2.0 provides more crypto agility and consistent experience across different implementations.
Now you might be wondering how end users are leveraging benefits of TPM, so here is the answer. TPM works in background and most of the security features are using it. In our daily computing usage, we may sent some data in plain text format and in unencrypted form. The TPM then make an equivalent use of hardware and software to encrypt the password and other security identifiers. In this way, the data is securely encrypted and transmitted.
On the occasion of system being compromised due to malware or virus, TPM chip has the ability to work in 'quarantine' mode to carry out its operations. Instead of storing your encryption keys, passwords and certificates on your hard drive, a TPM chip is rather more secure platform to store them.
For further information and implementation of TPM, interested readers can refer this Microsoft's documentation.
That's it!