To maintain our system regularity and stability, we should often check for Windows Updates and install – when new updates are available. By keeping our system installed with latest updates, we can reduce chances of breaking system integrity, and injection of vulnerabilities to very less. However, sometimes you may not able to complete installation of Windows Updates.
Recently, while installing newer updates, I came around following message:
Failure configuring Windows Updates. Reverting changes. Do not turn off your computer.

Such kind of error came into light when you're installing more than one updates, the one of them is causing issue. In such scenarios, many fixes may applicable since the root cause may vary system to system, server to server. Although there are some most common solutions exists, that may help you to overcome this issue very easily.
So without wasting your time anymore, let us check out how to deal with this issue:
FIX : Failure Configuring Windows Updates. Reverting Changes.
1. First of all, you need to run System Readiness Tool (aka CheckSUR tool). In order to use this tool, open administrative Command Prompt and run these DISM commands one-by-one and press Enter after each:
Dism /Online /Cleanup-Image /CheckHealth
Dism /Online /Cleanup-Image /ScanHealth
Dism /Online /Cleanup-Image /RestoreHealth
The execution of these commands may take up to some minutes, so keep patience. You can read about this commands in detail, here:
Repair Your Windows 8 Using DISM Commands
2. Next, clear the transactional log by running following command in administrative Command Prompt.
fsutil resource setautoreset true C:
Substitute C: with your system root drive.

3. Moving on, check for the additional issues by running Windows Update Automated Troubleshooter: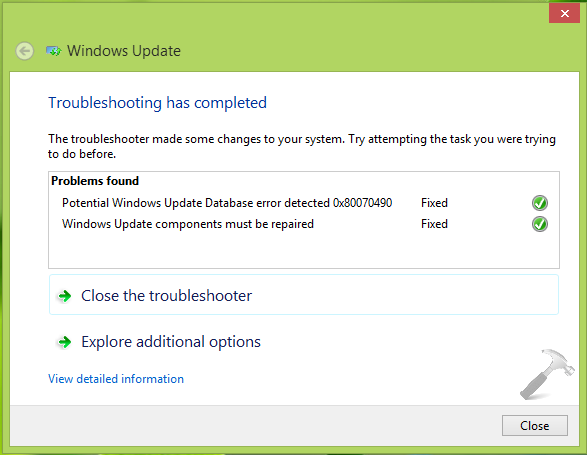 Now since all the problems are fixed, you can try installing updates. Here I suggest you select a single update and check if it installs and takes you to this screen:
Configuring Windows Updates. <progress percentage> complete. Do not turn off your computer.

When you came around this screen for a unit update, try selecting rest updates then and install all at once. In this way, the error can be resolved.
If problem still persists, try out the individual fixes mentioned in following links and see if they helps:
1. [FIX] Windows Update Ran Into A Problem.
2. [FIX] "Windows Could Not Search For New Updates" In Windows 8 Or Later
3. [FIX] Windows Update Encountered An Unknown Error
4. [FIX] 0xc8000247 – Windows Update Standalone Installer Encountered Error
5. [FIX] Manually Reset Windows Update Components In Windows 7, 8
Hope something helps, Good luck!