About a week ago, Apple products received the iOS 7 updates worldwide. After playing with iOS 7, finally I realized that this update has done its major work only in improving the user interface. The functionality of Apple products, the app behavior still goes the same and iOS 7 has not created any big differences from iOS 6.x.x. However, it can be said that Apple has done a great job for enhanced UI. The typo and styling keeps one interested in running their devices.
iOS 7 Review : Things I Dislike In iOS 7
In this article, I'm going to highlight the features which I don't find useful or those one which are not of my kind. Due to these dislikes, I considered that upgrading to iOS 7 was a bad idea, but is it really? Well here is the explanation to this…
Improvements in Safari : Not Exactly What Expected
Safari is first and foremost thing on my iPad which takes up all my time. Safari was expected to receive some good things, yet it missed them. However, the typography and view of this browser is contagious. If you are using Private browsing, it goes dark and for normal browsing, its bright. The address bar now only shows domain, and it shows full URL when tapped. But it seems like Safari yet not able to differentiate between sub domains and main domain.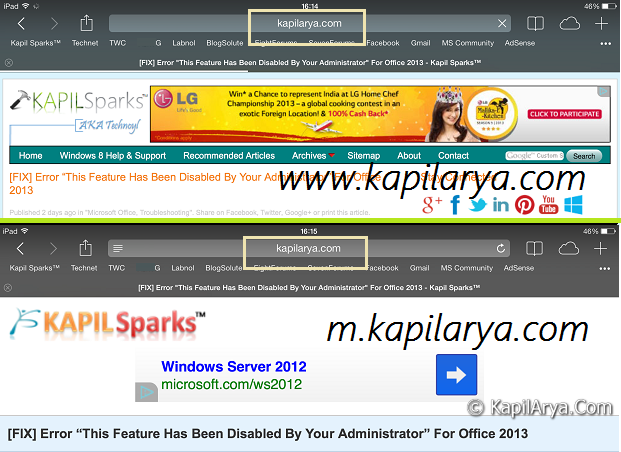 For example, when I typed www.kapilarya.com and m.kapilarya.com, the page got changed according to site settings but the funny thing is that Safari was still showing the same domain! Plus Safari still don't know there is "downloading" kind of feature for browsers.

Lock Screen : Is It A Bug Or Feature?
Lock Screen in iOS 7 looks pretty, especially when you choose the dynamic background for it. Following previous iOS iterations, the right side sliding of Lock Screen was the only way to get in. But now since the camera access is there, you can tap camera icon from bottom to up, which will obviously open camera. The tricky part goes here that if you tap Home button at the instance, Lock Screen automatically vanishes and you're already in.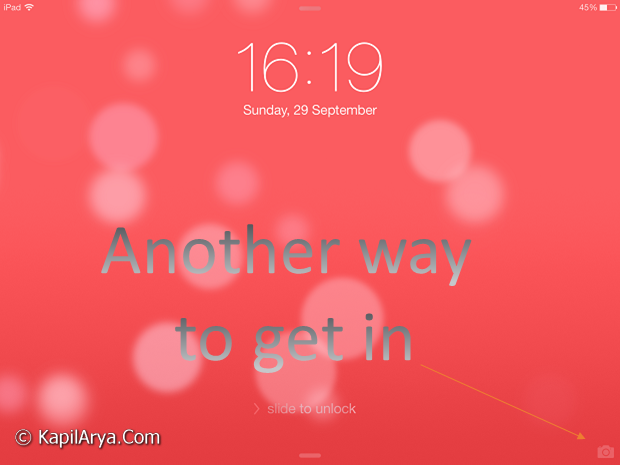 Can't say, what it is actually?
Multitasking : Nothing New
iOS is still lacking the complete multitasking analogy. While a Surface user can run two apps on the same screen having partition in between the apps, an iPad user have to still compromise with the single app running at the same screen.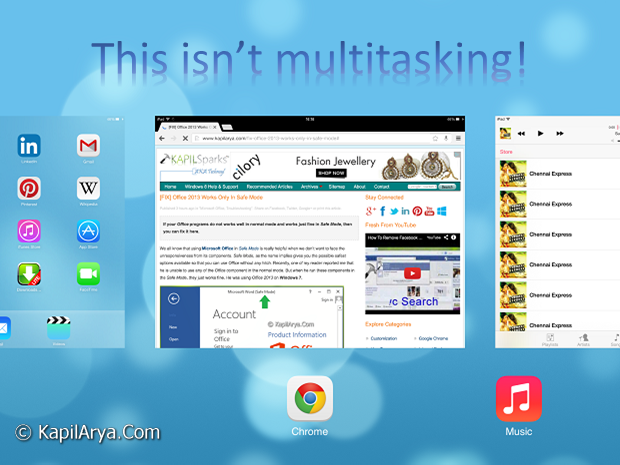 There was an expectation that multitasking will be redefined, but unfortunately nothing new!
Siri : Still Siri!
Siri, the trade mark feature of Apple continues to disappointing you. Many times it doesn't have an answer or it just won't be able to connect the web, so only thing you're left with is, frustration. Finally, considering that you're lost, you have to fire up Safari and head on to Google, to get what you're looking for exactly.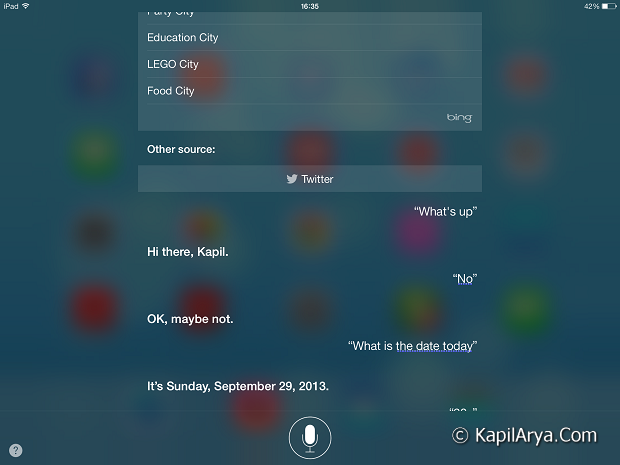 Siri, is by the way good thing to show up, especially for the kids, because they would just love to play with it. Otherwise, for search, I'll stick to Google, sorry Apple!
Notification Center : Degraded Feature
The notification feature in iOS 6.x.x a bit sufficient for what it is intended to. But with iOS 7, it feels like the feature is not upgraded but it is actually become more worse now. Not its canvas cover the whole screen and you have sometimes double tap to get back the working screen. We're also not provided with any customization ability, to change the notification screen background, even changing the portion it takes up on the screen.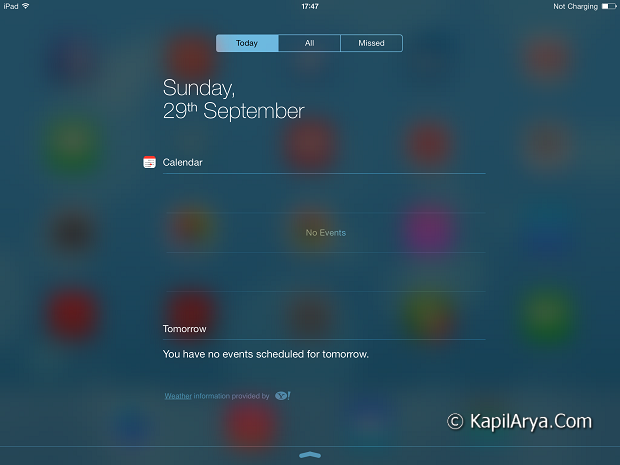 Ridiculous!
Sharing : Limited
The sharing capability is not changed too much and its again limited. Even, the Google+ or Pinterest aren't available in sharing options. However, Flicker is now introduced along with Airdrop feature but this isn't too impressive as Airdrop has the restrictions to work on Apple devices only, so one will not receive the shared data until he have an Apple device.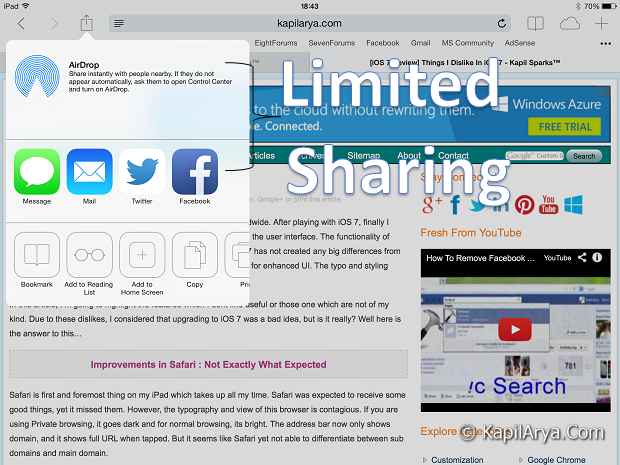 That's why Android guys enjoys sharing on almost all social networks.
App Background Refresh : Need Improvements
At the time of announcement for iOS 7, Apple promised that they have emphasized the background refreshment of apps for the new content but looks like things has remain same so far. Apps still not start updating themselves until you launch them once. This means, you have to open the app to checkout what's new.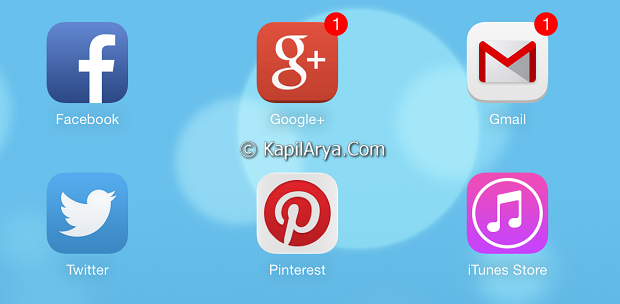 Android is a way ahead than iOS, as far as background refreshment of apps are concerned.
So these are few disappoints from iOS 7. But there are some good things (for which Apple is known) as well in this update, but they are suppressed by the ugly ones. If you haven't updated your Apple device to iOS 7, do considering upgrade if you're fond of these things:
1. Typography, enhanced look and more simplicity.
2. If you're looking for dynamic backgrounds on Lock Screen and Home Screen.
3. If you want to capture panoramic images with Camera.
4. If you want to see a better control center.
5. If you're looking for new views of App Store, Calendar, Reminder, Contacts, iTunes, Newsstand, Camera etc. apps.
6. If you want to increase security at Lock Screen by using a pass-code.
7. If you're in love with Modern UI of Windows 8, consider iOS 7 worth upgrading.
That's it for now guys! Looking forward for your views and opinions…