When it comes to Apple devices, you've some limitations with using iOS software. For example, there is no simple and effective solution to record calls on your iOS devices. Another example is the limitation which prevents TrueCaller's live called ID to work.
Under these limitations, some logical solutions are also available. WinX MediaTrans is one of those solutions. It's quite impressive tool to manage content on your iOS devices. This light-weight tool is great substitute to iTunes and gives you what iTunes lacks.
How To Backup iOS Content On Windows 10 Using WinX MediaTrans
Well, WinX MediaTrans is efficient and simplified solution which provides ease in transferring content from iOS devices such as iPhone, iPad, iPod to your Windows 10/8/7 machine.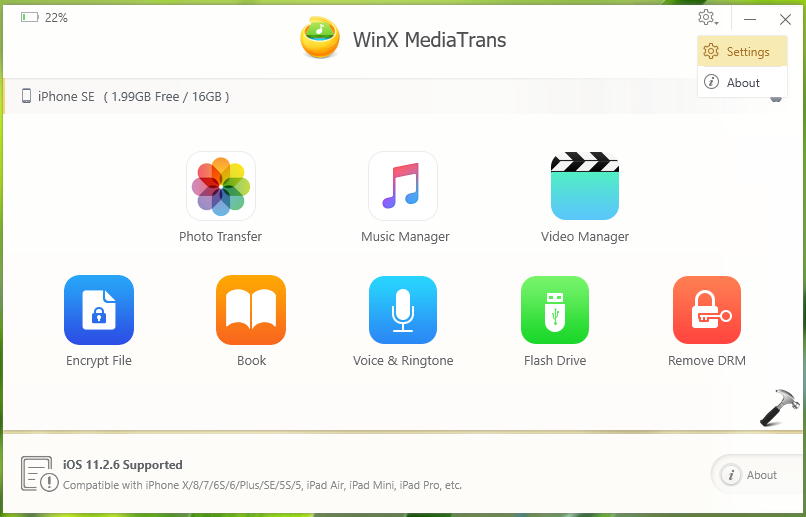 WinX MediaTrans offers following salient features:
You can transfer photos/videos/music from iOS device to Windows 10 and vice versa. In this way, you can save backup of these content on your Windows system.
The tool is helpful in moving non-iTunes media to iPhone. It allows automatic conversion of video files to MP4 and audio files to MP3.
In today's online world, it's often challenging to keep your confidential data safe. This tool will help you keep your confidential videos/photos safe with encryption.
The software uses hardware acceleration technology for selectively transferring iPhone photos to PC in a flash.
Add custom ringtone of your choice to your iPhone. You can pick any song from your Windows 10 system and the in-built ringtone maker feature in this tool will help you to convert it as iPhone ringtone and set the ringtone.
Using this software, it's quite easy to turn your iOS device into USB mass storage device.
WinX MediaTrans: Hands On Review
We reviewed the latest version 6.0 of WinX MediaTrans on our Windows 10 Pro V1803 machine. We obtain impressive results and the tool didn't disappointed us in any department.
Installation
Installation went quite smoothly. The downloaded executable weighs only 47MB. It took around 1.5 minutes to completely download and install the software.
Transferring Photos/Videos/Music/Books
You can simply click on the Photo transfer tile on tool's dashboard, and then you can easily browse and export Photos to your Windows computer. This is quick method as compared to our traditional method of importing Photos using File Explorer. Even transferring around a hundred of 4K photos taken very less time such as 8-10 seconds on our system. This makes the tool superior over iTunes.
The export or backup location can be customized, which is mentioned later in this article. You can transfer Music, Videos, Books with same approach.
With this tool, you can hit Sync button as much as you can, to synchronize your devices and keep them up-to-date.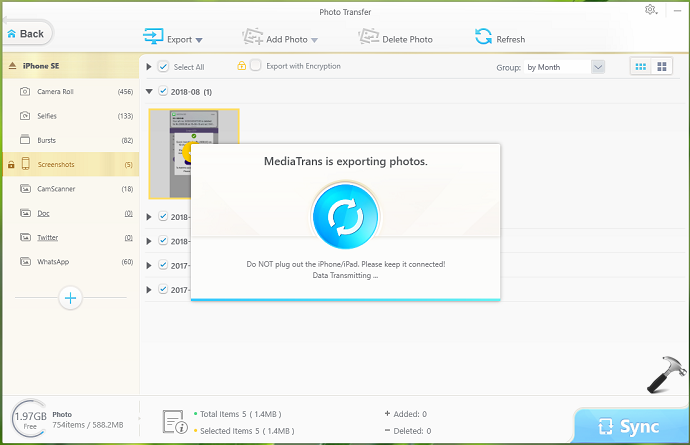 Data Encryption
You can use Encrypt file tile to encrypt your Photos and Videos, which has confidential data. With the help of this, you can protect your confidential documents from others.
With BitLocker on Windows 10, you need to setup it for drives, but here you've the choice to hand-pick files and encrypt them selectively.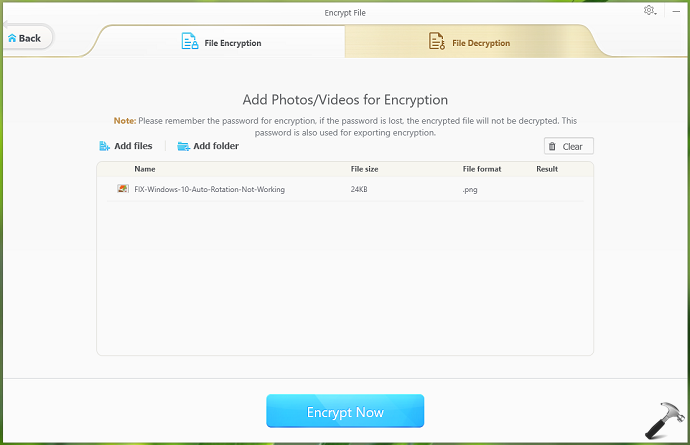 Add Custom Ringtones To Your iPhone
From our past experiences, iTunes lacks in adding custom ringtones to your iPhone. The process adding ringtones of your choice seems quite tedious. But for WinX MediaTrans, adding custom ringtone is child's play. This is the feature, we found most useful in this software.
Click on Voice & Ringtone tile on dashboard, then click Add Ringtone and browse for your favorite ringtone. Click Sync and you're done adding customized ringtone to your iPhone.
You can also set the added ringtone as default, using Make Ringtone link next to ringtone name.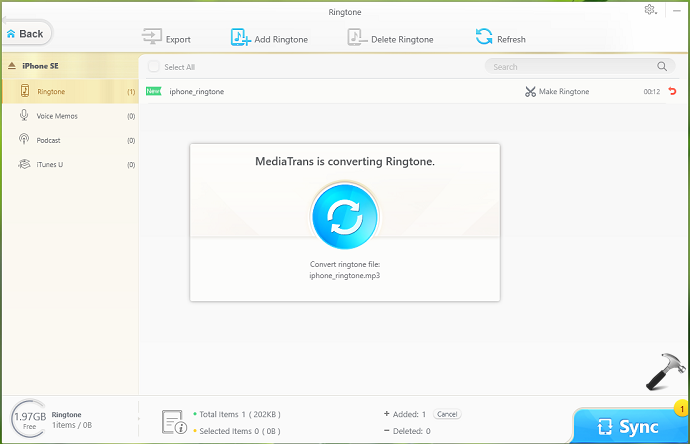 Settings Section
Under Settings, you've the option to configure the backup locations for exported items. You can also clear cache here.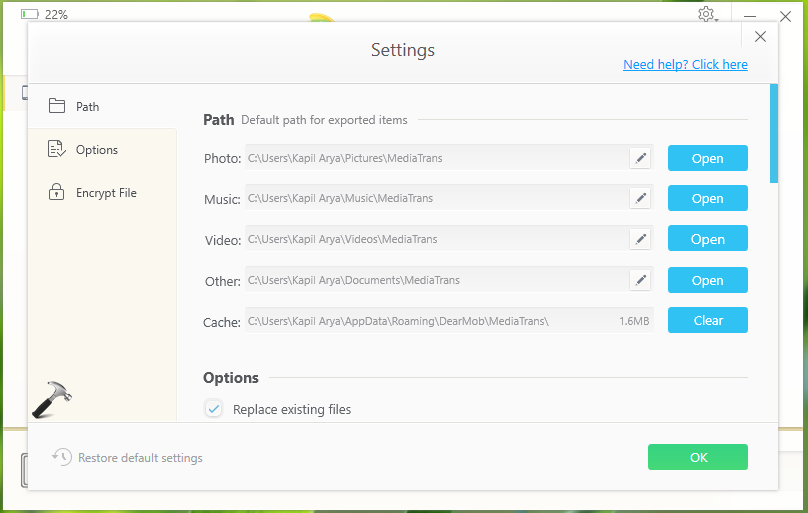 Next, you've options for audio and video conversion. You can change these settings any time as per requirement.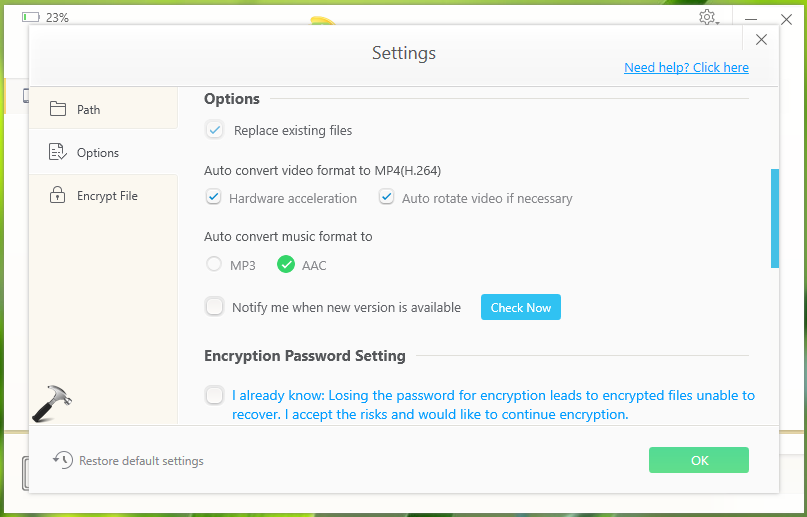 Download WinX MediaTrans
You can download WinX MediaTrans full version from its back to school giveaway:
Get WinX MediaTrans Full License Code
This license can unlock all the features of this tool.
We hope you find the tool useful!
FYI: This is third-party software which is shared here for your convenience. It is always advisable to create a System Restore point first, before using these tools.