Microsoft adds some new features in a newer version but some older features may also be removed. The features removed are usually called 'deprecated' or outdated. If you continue using outdated features, Microsoft will not provide support for them.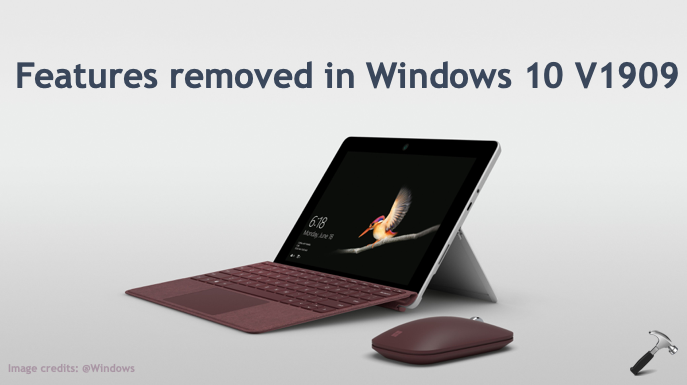 With latest released Windows 10 V1909, some features or functionalities has been removed. In this article, we'll list those outdated features for you.
List Of Features Removed In Windows 10 V1909 (November 2019 Update)
Below are the features removed with Windows 10 V1909.
1. PNRP APIs
According to Microsoft, "The Peer Name Resolution Protocol (PNRP) Namespace Provider (NSP) is a serverless name resolution technology that allows nodes to discover each other". In a peer-to-peer model, each user can exchange data or share resources, collaborate directly in real-time, without using Internet services. PNRP is basically a peer-to-peer protocol introduced by Microsoft with Windows XP advance networking pack and it works IPv6. The technology has been long time part of Windows family but with Windows 10 V1909, Microsoft is removing the PNRP APIs.
2. Roaming Of Taskbar Settings
With Windows 10 V1903, Microsoft announced they are no longer making development in taskbar roaming setting. With the latest feature update, these settings are removed and any functionality of feature depending upon the setting will no longer work.
With Windows 10 V1909, Microsoft has announced that company no longer developing following features and they'll be removed in upcoming feature updates:
1. Text Services Framework (TFS) IME is used enabling certain language technologies. Microsoft is planning to not develop TFS1 and TFS2 IMEs and replace them with TFS3 IME.
2. My People is no longer developed by Microsoft now and it will be removed in future release.
3. Hyper-V vSwitch on LBFO will no longer be bounded. It will be having Switch Embedded Teaming (SET) bounding instead.
4. Package State Roaming (PSR) will be removed and replaced with Azure App Service, which is widely supported and available on cross-platform, atm.
5. Feedback hub will no longer have Language Community tab.
Thanks for reading in, stay tuned for more updates!