Few weeks ago, Microsoft released Windows 10 V1909 to Visual Studio subscribers. Now the company has released Windows 10 V1909 or November 2019 Update to end users. The update for V1909 is not big as the previous V1903 update but it provides quality enhancements and improves selective features.
In this article, we'll see how you can download V1909 update right now, what new things it offers and what are the known issues with it. See, according to Microsoft, new features introduced in Windows 10 V1909 were already included in updates sent on V1903 on October 8, 2019. However, those features were disabled till now and when users will installed V1909 update, they'll be automatically activated.
Microsoft Released Windows 10 V1909 (November 2019 Update)
How to download and install Windows 10 V1909?
As the update is officially released, it means you can download and install it now. Simply go to Settings > Update & Security > Windows Update, you'll see Feature update to Windows 10, version 1909 available. Click on Download and install now link and proceed with on-screen instructions to get the upgrade installed. If you can't see V1909 update, please refer to the 'known issues' heading mentioned later in this article.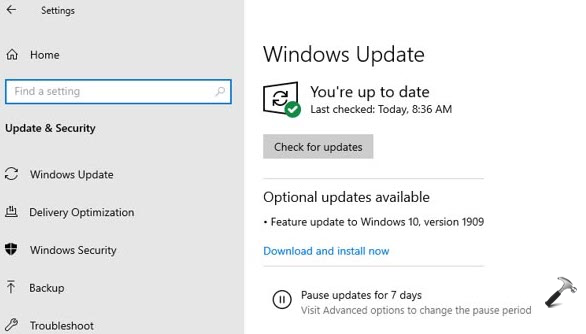 Image credits: Microsoft.
What's new in Windows 10 V1909?
According to Microsoft, V1909 update provides following capabilities to your Windows 10:
Quickly creating an event directly from the Calendar flyout on the Taskbar.
Better managing notifications, including a new button at the top of the Action Center and the ability to sort notifications by most recently shown.
Integrating OneDrive content online with traditional indexed results in the File Explorer search box.
The navigation pane on the Start menu now expands when you hover over it with your mouse to better inform where clicking goes.
Using your voice to activate third-party digital assistants from the Lock screen.
What are known issues in Windows 10 V1909?
The V1909 update is yet not available to incompatible devices or devices with safeguard hold. Users on these devices are likely to receive the V1909 update when Microsoft resolves the compatibility issues. You may refer this Microsoft documentation to get detailed information about known issues with V1909.
We hope you'll enjoy the V1909 update!