As we all know Windows 10 is under development and it is expected to arrive by the end of this year. Windows 10 will be shipped with the integration of Universal Apps, that are capable to run on different kind of devices.
See : Windows 10 : Everything You Need To Know About
The demo of these apps can be experienced with newly released Office 2016 Touch Preview Apps. There are three apps, namely PowerPoint Preview, Word Preview, Excel Preview. This also cleared that the successor to Office 2013 will be Office 2016, which is expected to arrive next year.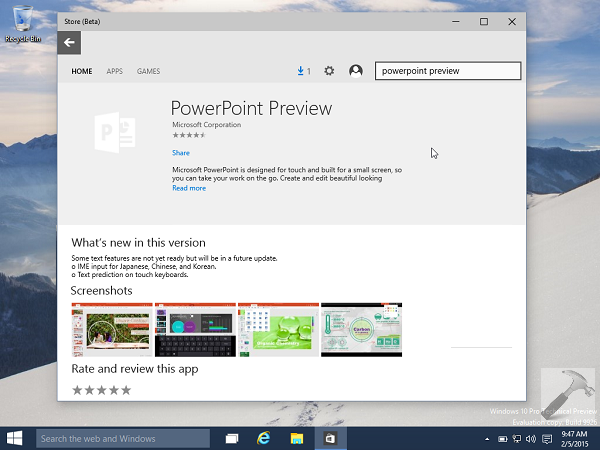 So at the moment, the good thing is that Microsoft has made available three preview apps for Windows 10 users. These apps can installed from Store app. Please note that the apps will not visible on Store for Windows 8, or early Windows 8.1 editions. Hence you need to have at least Windows 8.1 Update or a Windows 10 build to download the apps. All apps would work on both 32-bit and 64-bit edition of Windows.
The apps are fully optimized for touch like we have used Office apps for iPad released last year. PowerPoint, Word and Excel are considered to most used components for Office package, hence only the apps for these components are released right now. However, OneNote app is already available on Store. According to Microsoft, right now you can use most of functionality in these preview apps for free but after preview, some functionality will require a qualifying Office 365 subscription.
Here are the direct links to the app pages:
Hope you enjoy the apps and find them useful!
Related Stuff:
1. [Direct Download Links] Download Microsoft Office 2013 Professional Plus Free Trial
2. Download Microsoft Fix it To Uninstall Office 2013 Without Leaving Traces