NOTE: This article is updated whenever Microsoft announces new update for Windows 10.
We all know that there is a new edition of Windows coming, which is Windows 10. Announcing Windows 10, Microsoft has make us clear that Windows 10 will be more concentrated on unifying the user experience across various range of devices. This operating system will have the capability to run from low-end phones to HDMI screens. Windows 10 will have Universal Apps to support the stuff on this larger range of devices. In this article, we're enlisting the updates regarding Windows 10, as their are made available from official sources.
On an estimation, this may be final version of Windows. It means there may be no Windows 11 confirmed at UPDATE 9 that Windows 10 is last operating system of Windows series. According to industry experts, Microsoft will then only push updates for Windows; so that users remain updated from vulnerabilities. This can be also interpreted that Windows will be available as a subscription based service – but this is yet to be confirmed it's confirmed now.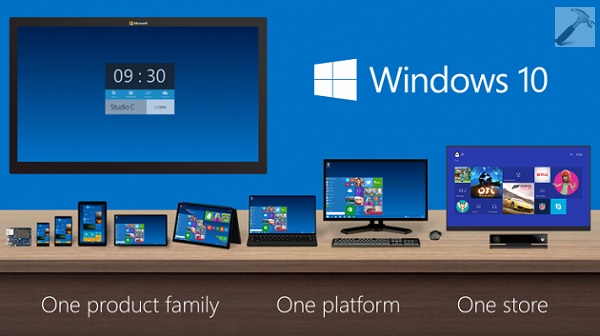 Windows 10 is still in the development phase and Microsoft is now collecting user feedback by offering new preview builds to public. You can download latest preview of Windows 10 from following article:
Download Windows 10 Latest Preview Build
To checkout the review of latest preview build, checkout following link:
[REVIEW] What's New In Windows 10 Technical Preview
Here the various updates released regarding Windows 10:
Windows 10 Development Report
UPDATE 1 : Windows 10 Is Available For Phones
Microsoft has made Windows 10 available for Phones. This will be basically called Windows Mobile. You can read about this update in detail here:
Download Windows 10 Technical Preview For Windows Phone
UPDATE 2 : Office 2016 Preview Apps Available For Windows 10
In addition to Windows 10, Microsoft is also working hard on Office 2016. In order to get the feedback on current implementations, company has released Word, PowerPoint, Excel apps for Windows 10 Preview users. Read more here:
Office 2016 Touch Preview Apps Released For Windows 10
UPDATE 3 : Microsoft Talks About Universal Apps
Universal Apps will be the next generation of Modern UI apps that introduced in Windows 8. To develop these apps, developers have to use updated Visual Studio 2015. You can all about this here:
An Introduction To Windows 10 Universal Apps
UPDATE 4 : Windows 10 Upgrade Path Available
By making Windows 10 Upgrade Matrix available, Microsoft has to clear that how users will have an upgrade to Windows actually. Have a look at the upgrade paths: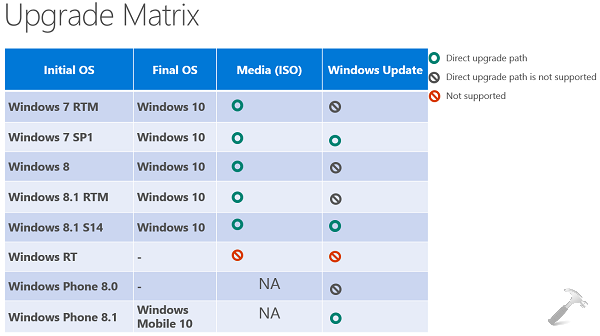 It is clear from above mentioned image, that Windows RT is not supported at all to get Windows 10. Users running Windows 7 RTM and later will have free upgrade to Windows 10 for the very first year from date of upgrade. After one year, they will basically need to purchase license to continue using Windows 10.
UPDATE 5 : Pirated Windows Will Be Upgrade To Windows 10 – In Free!
Microsoft and we all are aware about pirated copies of Windows. According to the company, these pirated copies of Windows will get a free upgrade to Windows 10 (in accordance with Upgrade Matrix), but after upgrading this copies will still remain non-genuine. However, to keep using Windows 10 on these pirated system, Microsoft is supposed to start subscription based services, but this still has to be confirmed.
UPDATE 6 : Windows 10 System Requirements
Windows 10 (Desktop edition) Hardware requirements:
Processor: 1 GHz or faster with support for PAE, NX, and SSE2
RAM: 1 GB (32-bit) or 2 GB (64-bit)
Hard disk space: 16 GB (32-bit) or 20 GB (64-bit)
Graphics card: Microsoft DirectX 9 graphics device with WDDM driver
Firmware: UEFI 2.3.1, Secure boot enabled, BIOS
Windows Mobile Hardware Requirements:
Storage: 4GB or more of flash; 4GB devices will need to external memory card requirement to support updates
Graphics card: Microsoft DirectX 9
UPDATE 7 : Windows 10 Will Be Available By The Mid Of This Year
According to Microsoft, the end users will have Windows 10 Release to Manufacturing (RTM) in their hand by the mid of this summer. This edition will be available to download and install, or came pre-installed by Original Equipment Manufacturer (OEM) on newer Windows PCs.
The exact date of general availability and RTM to be released is yet to be confirmed. However, it is clear that Windows 10 will hit 190 countries in 111 languages by the end of this year.
UPDATE 8 : Microsoft Edge Will Be Default Browser
At Build 2015, Microsoft has clarified that Microsoft Edge will be default browser for Windows 10. This will be a next generation browser and successor to Internet Explorer Modern App. Earlier, it was codenamed as Project Spartan but finally it will be called as Microsoft Edge, and will have these features:
Support for built-in Cortana
Built-in reader, note-taking and sharing features
Design focus on simplicity and minimalism
New rendering engine called EdgeHTML, which was first dubbed as Spartan engine
UPDATE 9 : Microsoft Confirms Windows 10 As Last Windows OS
Microsoft has finally given a clue that Windows 10 will be last operating system for the Windows series. This has been officially confirmed by Microsoft employee, Jerry Nixon at company's ignite conference. He concluded "Right now we're releasing Windows 10, and because Windows 10 is the last version of Windows, we're all still working on Windows 10." This means that there will be no Windows 10.1 or 11.
Thus the future of Windows will progress via updates for Windows 10, that means that Microsoft will push new changes via Windows Updates. This phenomenon will be pronounced as Windows as a service. It's just that Microsoft now doesn't believes in upgrading iteration number and want to keep focus on making Windows 10 more and more better as possible.
UPDATE 10 : Microsoft Announces Windows 10 Editions

Microsoft has now provided us detailed list of Windows 10 editions. The exact date of Windows 10 release is yet to announced. Here the list of Windows 10 editions:
1. Windows 10 Home : It's the consumer-focused desktop edition. It offers a familiar and personal experience for PCs, tablets and 2-in-1s. Windows 10 Home will help people do great things, both big and small. With it, they will be more productive and have more fun thanks to a long list of new innovations: Cortana, the world's most personal digital assistant; the new Microsoft Edge web browser; Continuum tablet mode for touch-capable devices; Windows Hello face-recognition, iris and fingerprint login; and right out of the box, a broad range of universal Windows Apps like Photos, Maps, Mail, Calendar, Music and Video.
2. Windows 10 Mobile : Designed to deliver the best user experience on smaller, mobile, touch-centric devices like smartphones and small tablets. Windows 10 Mobile will enable some new devices to take advantage of Continuum for phone, so people can use their phone like a PC when connected to a larger screen.
3. Windows 10 Pro : Desktop edition for PCs, tablets and 2-in-1s. Being similar to Windows 10 Home, it will bring some additional features to the table.
4. Windows 10 Enterprise : This is add-in to Windows 10 Pro and will be dedicated to enterprise customers. Users of Volume Licensing can get this edition.
5. Windows 10 Education : Builds on Windows 10 Enterprise, and is designed to meet the needs of schools – staff, administrators, teachers and students. This edition will be available through academic Volume Licensing, and there will be paths for schools and students using Windows 10 Home and Windows 10 Pro devices to upgrade to Windows 10 Education.
6. Windows 10 Mobile Enterprise : Designed to deliver the best customer experience to business customers on smartphones and small tablets. It will incorporate the latest security and innovation features as soon as they are available.
UPDATE 11 : Windows 10 To Be Released On 29 July, 2015
Finally, Microsoft has confirmed us about the general availability (GA) of Windows 10. As evident already that Microsoft has tested this operating system via Windows Insider program and offered various builds in past months. Now the company is almost ready to go ahead in order to deliver final and stable build of this last operating system of its series.
Checkout the official post about confirmation of Windows 10 release date
This means the operating system will be available to public and Original Equipment Manufacturers (OEMs) plus users will be able to buy new machine came pre-loaded with Windows 10, after GA. However, Microsoft has not yet said anything about Windows 10 for phones and it's expected to ship by the end of this year.
So this is all about the updates for Windows 10 development. We'll update this article as soon as new information is made available, so stay tuned!