Using Windows Phone 8 or later, you can now easily convert your snapped images into scanned documents. This has removed the extra steps to be taken out when you're looking forward for a scanned content using an image. This has also killed the requirement of buying new scanner, since your Windows Phone itself can work as the same. Meet Office Lens, a free documentation app available in Windows Phone Store, that has ability give various output just from a captured image.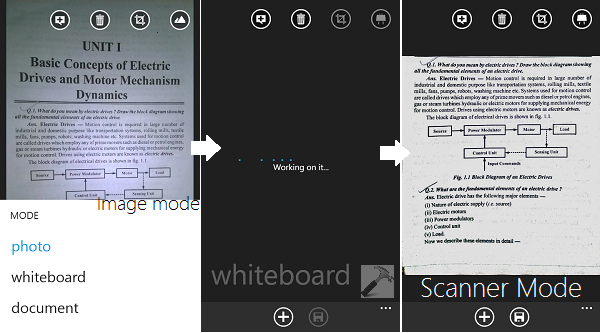 So basically, this utility app makes your work easy. Referring to above shown screenshot, as you can see I snapped a picture using the camera, even in the dark shade. Then I opened it into Office Lens, and tap the last icon at top right part of screen, in order to select the mode of document. Here you have three options; photo, whiteboard, document. Just tap on the whiteboard mode, and in the few seconds, your image will take the shape of scanned document.
Apart from this conversion, Office Lens have many other features as well:
Office Lens : Features
With Whiteboard mode, Office Lens trims and cleans up glare and shadows
With Document mode, Office Lens trims and colors images perfectly
Pictures are saved to your camera roll and also directly into OneNote, so you can see the images across all your devices
Choose to convert images to Word (.docx) or PowerPoint (.pptx) files that are automatically saved to OneDrive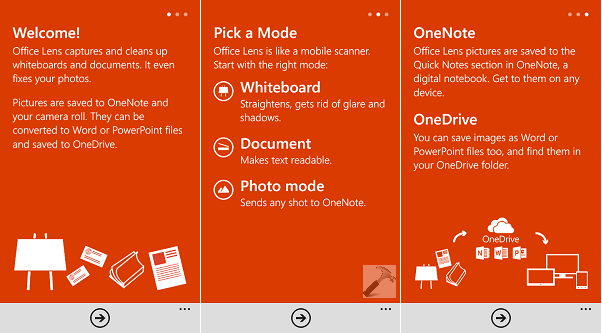 Using Office Lens, following possibilities can be turned out into reality:
Office Lens : Abilities
Capture and crop a picture of a whiteboard or blackboard and share your meeting notes with co-workers
Make digital copies of your printed documents, business cards or posters and trim them precisely
Printed text will be automatically recognized (using OCR) so you can search for words in images and copy and edit them
Skip the photo copier and take pictures of menus, shopping lists, or children's sketches so you never have to worry about forgetting or misplacing them
Download Office Lens For Windows Phone
If you're having Windows Phone 8 or later, click the following link to get Office Lens inside Windows Phone Store: https://www.windowsphone.com/en-in/store/app/office-lens/5681f21c-f257-4d62-83f5-5341788a5077.
Hope you enjoy the app and find it useful!