If we talk about system administrator account, its the account which have privileges to control whole Windows OS operations. However, there are two type of administrative accounts, actually. The first one, which you created just after installing Windows is called built-in administrator account. The other administrator accounts you create using built-in administrator can be treated as secondary administrator accounts.
Well, built-in admin and secondary admin accounts are slightly different from one other, from the security and permissions point of view. But if you're facing issues with your built-in admin account, then the secondary admin accounts you created can help you to reset the former one. This straightforward article will tell you the way to reset built-in admin account, so that the problems you're facing on it can be suppressed.
Please create a secondary admin account, if it doesn't exists on your system, to proceed with this method. Now here is how:
How To Reset Built-in Administrator Account In Windows 10
1. Boot into System Recovery Options. Hit the Command prompt option here: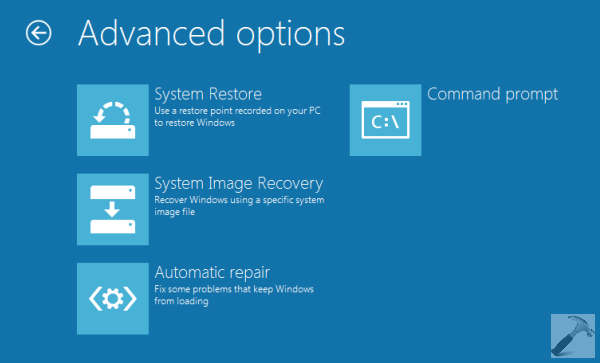 2. Previous step will result booting of your system in Command Prompt mode and you'll be taken to following screen. Now carefully choose here the secondary admin account, instead of built-in admin account.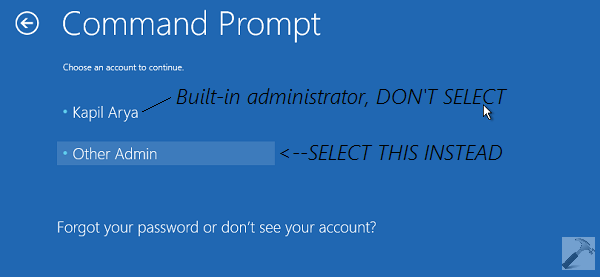 3. Moving on, in the Command Prompt window, type following commands one by one followed by Enter key:
diskpart
list volume
exit
This will help you to identify the exact letter assigned to your system hard drive running Windows. In our case, it was D: drive.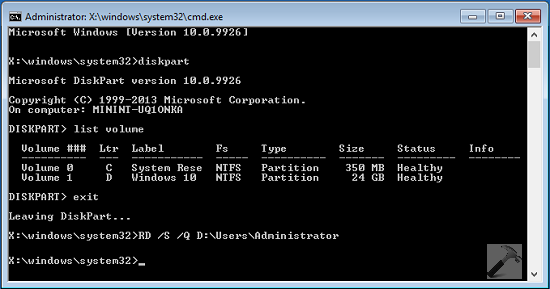 4. Next, type following command and press Enter key:
RD /S /Q <drive>\Users\Administrator
In our case, since the drive letter was D, we typed RD /S /Q D:\Users\Administrator. Once this command is successfully executed, you can close Command Prompt and restart your machine to boot into normal mode.

5. Press 

 + R and put regedit in Run dialog box and hit Enter key to open Registry Editor.
See : Getting Started With Registry Editor & How To Use It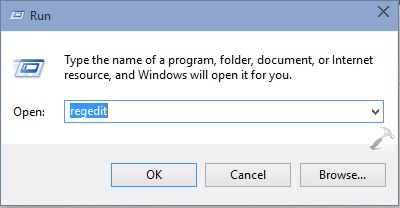 6. In the Registry Editor window, navigate to this key in the left pane:
HKEY_LOCAL_MACHINE\SOFTWARE\Microsoft\Windows NT\CurrentVersion\ProfileList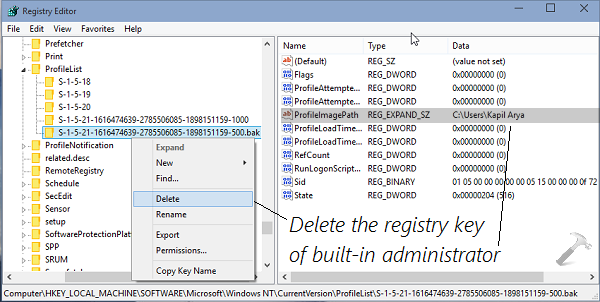 7. In the above shown window, expand the ProfileList key and highlight the long sub-key with either 500 or 500.bak at the end (in our case it was S-1-21-1616474639-2785506085-18981511159-500.bak). In the right pane of this sub-key, the ProfileImagePath registry string must point to built-in admin account user folder. If you can confirm these checkpoints, right click the long sub-key with either 500 or 500.bak and select Delete. In case you want to backup it, Export it first and then Delete. Provide your approval for deleting the sub-key with Yes:

Once you've deleted the key, reboot the machine and log-in to built-in admin account. Thus registry key we deleted will be regenerated automatically by the system. Hence in this way, we're done with resetting built-in admin account.
That's it! Go here to learn how to show or hide "Administrative Tools" in Windows 8.1.