NOTE : Tutorial updated for Windows 8.1.
Basically, in Windows 8 or later, System Recovery Options lets you to easily use recovery tools for your machine. In the case of system failures, users can access System Recovery Options while booting the machine. From here, there are various ways using which you can repair your system and troubleshoot it. If you're beginner with Windows 8 or later editions, you might not be familiar with System Recovery Options, but no need to worry at all! In this article, we discuss the System Recovery Options in detail and the way to access them.
By accessing System Recovery Options, you can easily Refresh or Reset your system. Next, you can also use Command Prompt at boot, that is without entering the system. System Recovery Options also includes the way to restore your system to earlier date, via System Restore. So here is how you can open System Recovery Options on your machine:
How To : Boot Into System Recovery Options For Windows 8.1
1. In Windows 8.1, open PC Settings app and in the left pane navigate to Update and recovery -> Recovery. You should now able to see the screen shown below. In the right pane, under the hood of Advanced startup, click Restart now. Your system would reboot itself now.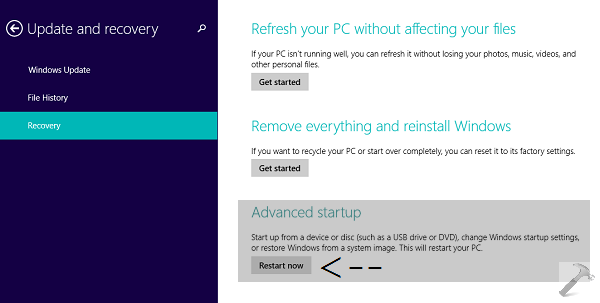 2. Next, at reboot, you'll get below shown Choose an option screen. Select Troubleshoot.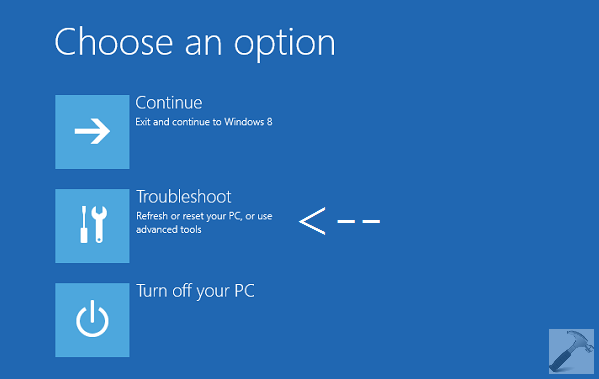 3. Moving on, in the Troubleshoot screen shown below, pick the Advanced options entry there. Here, the other options Refresh your PC & Reset your PC are useful to Refresh & Reset at boot respectively.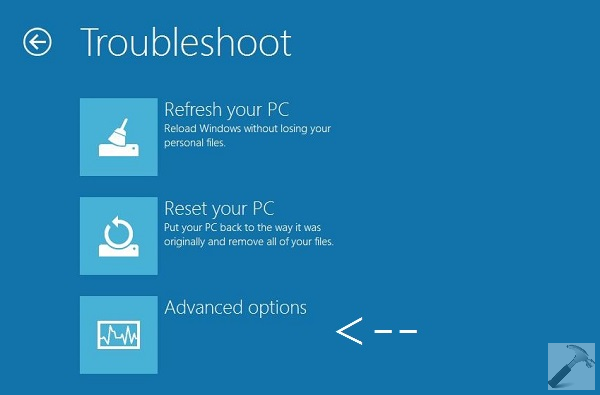 4. Finally, you've landed to System Recovery Options via Advanced options screen. Here you have following entries:
a. System Restore : To restore your machine to last known good configuration. Go here to create a System Restore point.

b. System Image Recovery : You can use this option if you have System Image with you, in order to restore you machine, here is the way to create one and here the way to repair one.

c. Automatic repair : This will help you to fix booting related issues, and you have to insert Windows 8.1 disc that came with your laptop to go ahead with this option.

d. Command prompt : This will open the administrative Command Prompt. You can do multiple tasks using Command Prompt like changing registry configuration of users on the system by loading a hive.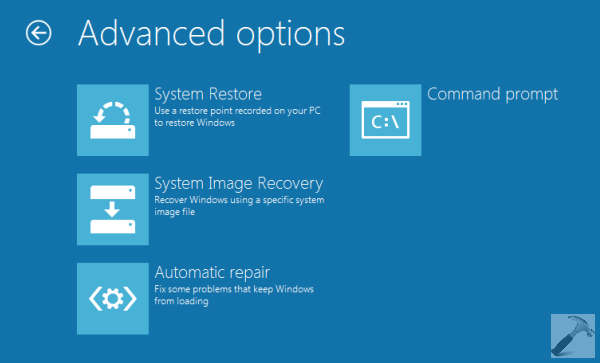 Hope you find the article useful!