If you're a Windows Phone lover and getting jealous of Android's live wallpaper feature then here is a good news for you! Microsoft is currently working on a live Lock Screen for their Windows Phone operating system and this app is in beta or development phase. To get the initial feedback to this app, Microsoft has rolled out a beta iteration of this Live Lock Screen app which is currently available in Windows Phone 8.1 Store.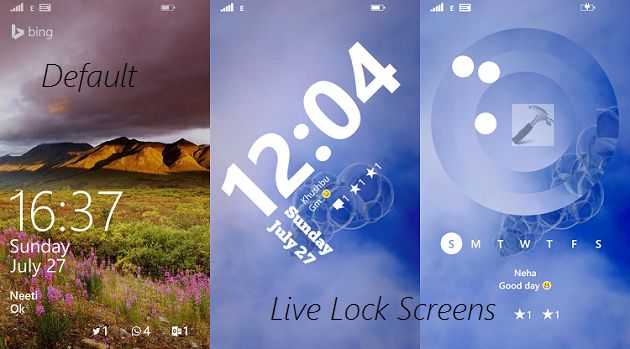 This app has the ability to set a live Lock Screen with custom background or cool Bing wallpapers along with background refresh at desired intervals. Live Lock Screen app has built-in animations and six predefined themes to workout with. These animations involve fly away, dissolve, cut-off, running clock with pointers etc. The best part of this app is that it works on low end devices too having 512 MB RAM. Although, this official app works only with Windows Phone 8.1 whose Developer Preview is available right now.
Here is quick guide how you can set live Lock Screen so far:
How To Set Live Lock Screen In Windows Phone 8.1
1. Download Live Lock Screen app from Microsoft for Windows Phone 8.1 Store by searching the app name or following this link.
2. After installing the app, when you'll be asked Set as Live Lock Screen with Yes or No, tap Yes. Then you'll see following screen: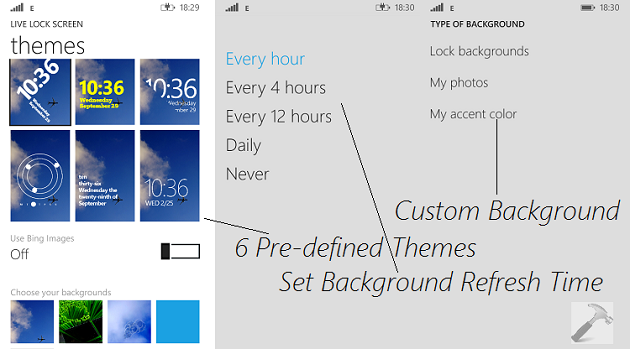 In the above shown image which is a combination of three screens, first screen shows section where you can pick your theme from six predefined styles. In the next section, you can set after how much time the wallpaper should change automatically, you have four options here. Last section shows you the options from where you can pick your Lock Screen image. We recommend you to use this app with Bing wallpapers by turning On the Use Bing Images option shown in first section of above image.
3. After selecting your style in the app, you can now lock your phone by pressing power button and start enjoying your live Lock Screen.
However, since the app is still in beta phase, so its little bit slow. We expect this would be improved in stable version with more productivity.
That's it!