There might be different cases when you're unable to access Network-attached Storage (NAS) or join domain in Windows 10. This article discusses one such issue in which users may not able to connected the system to network. The 'network' here refers to NAS, HomeGroup environment machines, and the domain environment. So while connecting either of these environments, if you see below mentioned error, this fix is for you.
<network-resource-name> is not accessible. You might not have permission to use this network resource. Contact the administrator of this server to find out if you have access permissions.
The account is not authorized to log in from this station.

The error simply indicates that this might be a permissions issue. So if you're able to contact administrator server, inform them about this issue and ask them to provide appropriate permissions to fix it. While if you're facing this issue for localized environments, you may try to re-configure or verify the Group Policy settings mentioned in this Microsoft support article.
In case if you still have the problem, perform this registry manipulation:
FIX: The Account Is Not Authorized To Log In From This Station In Windows 10/8/7
Registry Disclaimer: The further steps will involve registry manipulation. Making mistakes while manipulating registry could affect your system adversely. So be careful while editing registry entries and create a System Restore point first.
1. Press

+ R and put regedit in Run dialog box to open Registry Editor (if you're not familiar with Registry Editor, then click here). Click OK.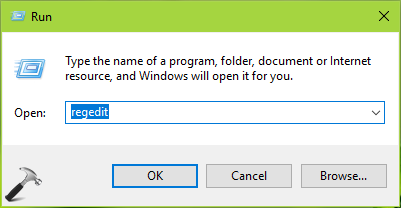 2. In left pane of Registry Editor window, navigate to following registry key:
HKEY_LOCAL_MACHINE\SYSTEM\CurrentControlSet\Services\LanmanWorkstation\Parameters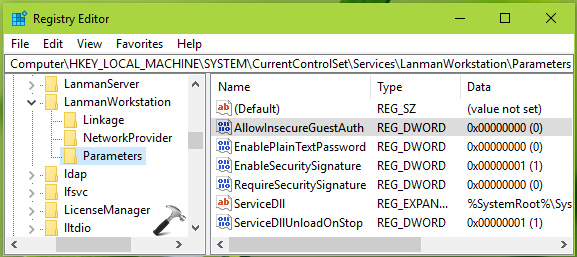 3. In the right pane of Parameters registry key, right click and select New > DWORD Value. Name then newly create registry DWORD (REG_DWORD) as AllowInsecureGuestAuth. Double click on the same DWORD to modify its Value data: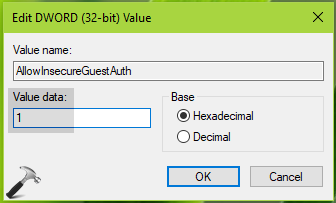 4. Finally, in the Edit DWORD Value, set the Value data to 1. Click OK and close the Registry Editor. Reboot, the issue must be resolved upon restart.
Hope this helps!