While working with Office 2013, many times there comes a situation that you have to print documents. But recently I faced a weird problem with detection of printers connected to the system, in case of Office components. Whether I open Excel, Word or PowerPoint, whenever I want to print a documents, these components couldn't detect the printer connected to the system. They keep saying following error:
The Active Directory Domain Services is currently unavailable.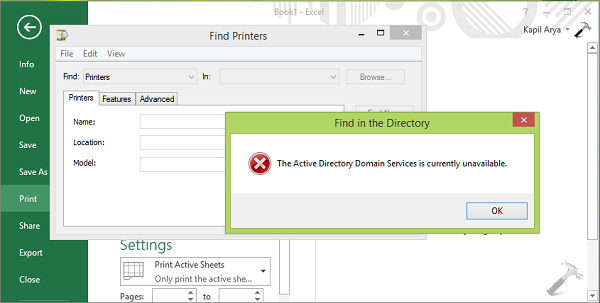 However if I use Internet Explorer, or any other application to print something, printer connected to the system easily detected by them. Then the question is, why only the Office components couldn't detect same printer? Well, its the user permissions issue due to which printer is unable to listed in Office. Here are the simple steps you can follow to overcome this problem:
FIX : The Active Directory Domain Services Is Currently Unavailable In Windows 10/8.1/8/7
FIX 1 – Using Registry Editor
Registry Disclaimer: The further steps will involve registry manipulation. Making mistakes while manipulating registry could affect your system adversely. So be careful while editing registry entries and create a System Restore point first.
1. Press

+ R and put regedit in Run dialog box to open Registry Editor (if you're not familiar with Registry Editor, then click here). Click OK.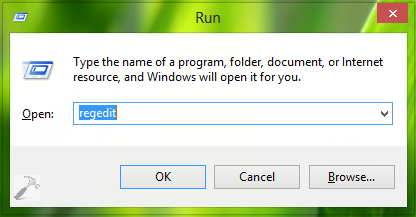 2. In the left pane of Registry Editor window, navigate here:
HKEY_CURRENT_USER\Software\Microsoft\Windows NT\CurrentVersion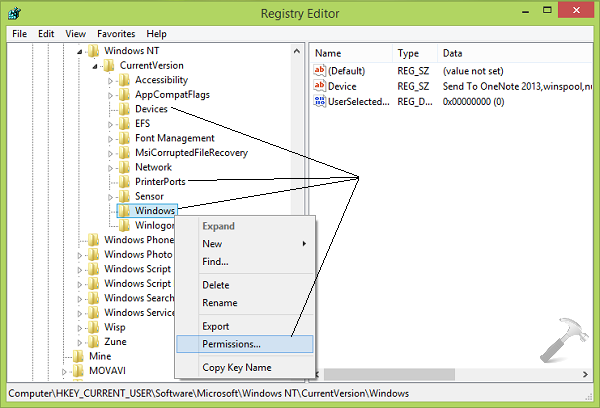 3. Moving on, in the left pane of above shown window, look for the three subkeys to CurrentVersion key; namely Devices, PrinterPorts and Windows. Right click each of them individually and select Permissions to get this window: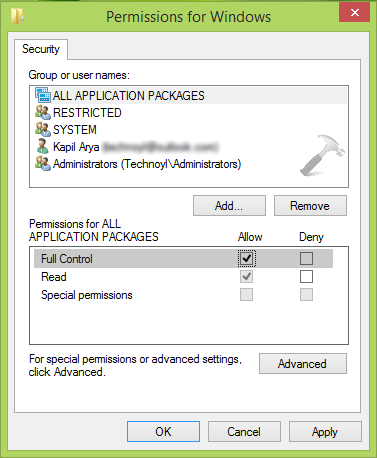 4. Now in the above shown window, firstly select the user account under Group or user names label, with which you're facing the problem. Then provide a Full Control under Permissions label by putting a check mark against Allow. You can do this for all entry listed under Group or user names section. Click Apply followed by OK.
See : How To Take Ownership Of Registry Key In Windows
Now you can close Registry Editor and reboot the machine, reinstall printer and this time you won't face any issue. Once Office components started detecting printer and the problem is solved, you can restore the permissions which we changed in step 4.
FIX 2 – Recognize Printer Using Other Apps
Another way to suppress this issue is that you add the printer via those apps, to which printer is visible. For example, the Notepad app. Here is what to do:
1. Close Office components and open Notepad, click File -> Print or press Ctrl+P key combination.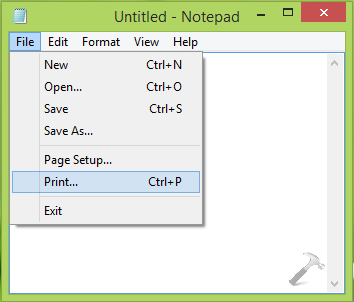 2. In the following Print window, you have to click Find Printer.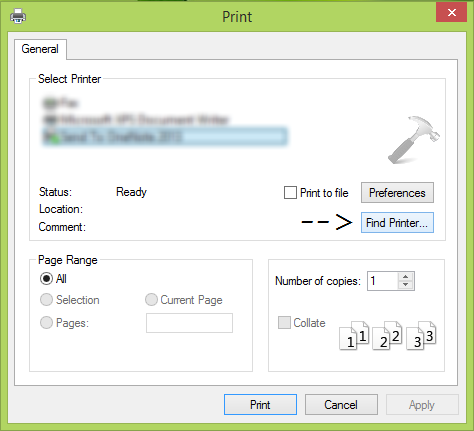 Now follow the on-screen instructions and in this way printer is added to the system. Most probably it should now be visible to Office components as well.
That's it!