As far as official work is concerned, printing plays an important role. In Windows, the printing related tools are managed by Print Spooler service running in the background. This services takes great care of enlisting installed printers plus the printing operation via them. Imagine how you would print if this single service would not be running on your Windows? In that case, your device can't simply do printing!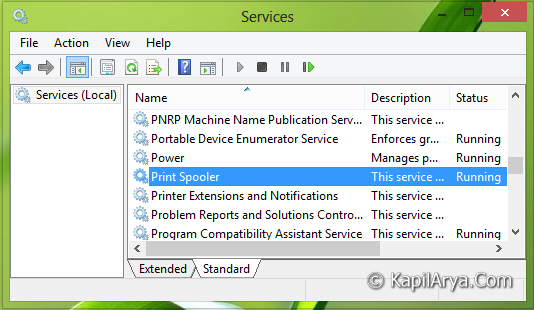 In this article, we'll show you the way to fix the error while starting of Print Spooler service in your Windows 8 or 8.1. By inspection on our system, we found that Print Spooler service was not running in the background; and when we tried to start, it resulted the error. Following the screenshot of one such error:
Windows could not start the Print Spooler service on Local Computer.
Error 1608: The dependency service or group failed to start.

As shown in the image above, there is nothing to help you to solve this issue except the error code itself. This error won't let you to start Print Spooler service on your system until it is fixed. Now the question comes out; how to fix it? Well, registry manipulation as usual in my articles will help here too to fix up the problem. Here is how:
FIX : 'Windows Could Not Start The Print Spooler Service On Local Computer' In Windows 10/8/7
Registry Disclaimer: The further steps will involve registry manipulation. Making mistakes while manipulating registry could affect your system adversely. So be careful while editing registry entries and create a System Restore point first.
1. Press

+ R and put regedit in Run dialog box to open Registry Editor (if you're not familiar with Registry Editor, then click here). Click OK.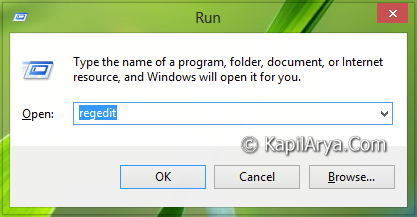 2. Navigate here:
HKEY_LOCAL_MACHINE\SYSTEM\CurrentControlSet\Services\Spooler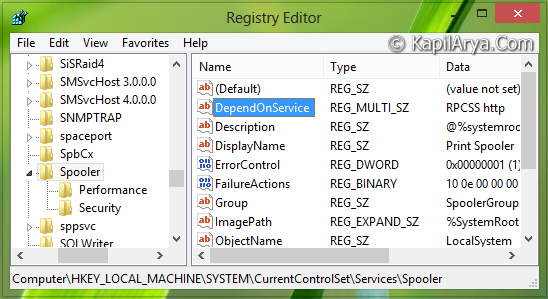 3. In the right pane of this location, look for the multi-string (REG_MULTI_SZ) named DependOnService and double click on the same to get this: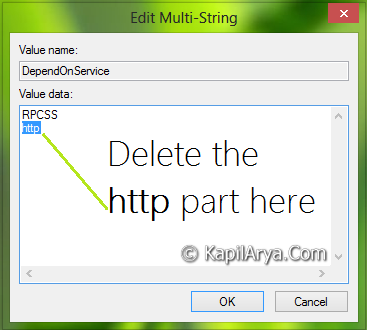 4. Here as shown in the above image, there are two dependency terms for the service enlisted one per line. You have to delete the http value here. Leave the RPCSS part as it is. After making the modification, click OK. You may now close the Registry Editor and reboot to get the issue fixed.
If you have any other issue similar to this in starting Print Spooler service, then you can try following registry fix. This registration file, which is extracted from the fresh Windows 8.1 machine, will reset the Print Spooler registry entries on your system, consequently fixing the issues related with the service.
All you need to do is to download the PrintSpooler.reg file from above link, and do a right click on it. Select Merge; reboot the system; finally get fixed.
Hope you find the article useful!