Previously, we have seen how to establish Remote Desktop Connection between Windows and iPad, Windows Phone, Mac and other Windows running system in the following article:
How to create Remote Desktop Connection from Windows to other devices
Today, while making Remote Desktop Connection between two Windows running system, we came around following message, as result of which both system cannot be connected remotely:
The number of connections to this computer is limited and all connections are in use right now. Try connecting later or contact your system administrator.

If you're too facing this error, you need to find out how this issue can be solved. If your system is a part of domain, you need to ask domain controller to get support on this. And if you're facing this problem on a isolated machine (non-domain system), you need to unplug the network cable from the machine. After unplugging cable, turn off WiFi and reboot the machine. After restarting the machine, plug the network cable, and turn on WiFi. In most of cases, this will solve the problem.
However, if the issue still persists, try following steps:
FIX : The Number Of Connections To This Computer Is Limited In Windows 10/8.1/8/7
Registry Disclaimer: The further steps will involve registry manipulation. Making mistakes while manipulating registry could affect your system adversely. So be careful while editing registry entries and create a System Restore point first.
1. Press

+ R and put regedit in Run dialog box to open Registry Editor (if you're not familiar with Registry Editor, then click here). Click OK.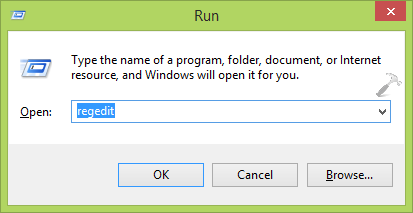 2. In the left pane of Registry Editor, navigate here:
HKEY_CURRENT_USER\Software\Microsoft\Windows\CurrentVersion\Internet Settings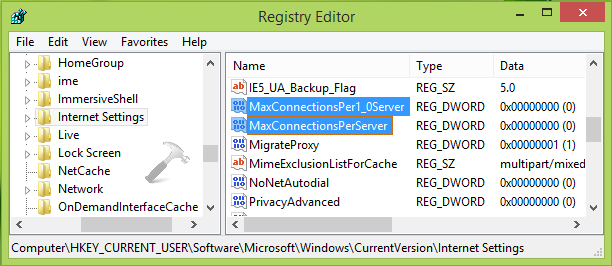 3. Moving on, highlight the Internet Settings key and come to its right pane. Then right click in blank space and select New -> DWORD Value. Name the newly created DWORD (REG_DWORD) as MaxConnectionsPer1_0Server. Similarly create another registry DWORD and name it MaxConnectionsPerServer. Now, double click on anyone of them to get this: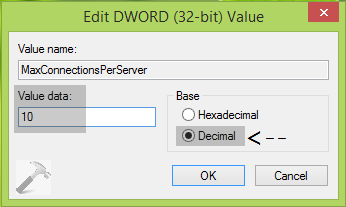 4. Finally, in the Edit DWORD Value box, select Decimal as Base and put the Value data equals to 10 (which is equivalent to a in Hexadecimal Base). Click OK. Similarly, change the Value data for another DWORD and put same value for it as well. Now close Registry Editor.
Reboot the machine, and after restarting your system, you'll find that the problem no longer exists.
Related Issue: A connection to the remote computer could not be established.