This fix applies to all those services, which are giving Error 1053 when you start them.
We all know that when you start your Windows operating system, there are many background services which contribute altogether to make this possible. These background services can be observed from Services window (run services.msc command to get this). In various scenarios, if one of these services fails to start or work properly, the associated feature or software gets affected.
Recently while turning on Windows Defender for protection of a system, we came around the Windows Defender service related issue. In this case, when we tried to start Windows Defender, this error resulted:
The service couldn't be started
The service did not respond to the start or control request in a timely fashion.
Error code: 0x8007041d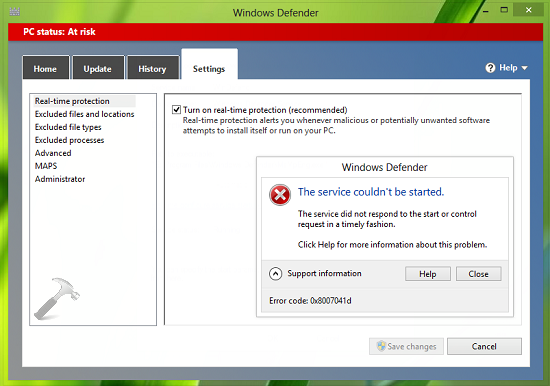 Also by manually starting the Windows Defender service, we received the same error message with different error code:
Windows could not start the Windows Defender service on Local Computer. Error 1053: The service did not respond to the start or control request in a timely fashion.

Recommended : Go here if you've received error 577 with Windows Defender Network Inspection Service.
By investing things technically, we found that the root cause behind this issue is Service Control Manager. Actually when a service starts, I has to do communicate with Service Control Manager. If the Service Control Manager doesn't receives a 'service started' signal from the service within a pre-specified time which is typically less than 30 seconds, the time-out occurs. When the time-out occurs, Service Control Manager has no option, other than to terminate the service. So if you're receiving the above mentioned error, that means Windows Defender or the other service is sending 'service started' signal in time beyond pre-specified time (taking more than 30 seconds or so). As a result of this, service couldn't be started at all. If we adjust this pre-specified time, then we can solve this problem very easily.
Here are the steps you need to follow:
FIX : 'The Service Did Not Respond To The Start Or Control Request In A Timely Fashion' For Windows 10/8/7
Registry Disclaimer: The further steps will involve registry manipulation. Making mistakes while manipulating registry could affect your system adversely. So be careful while editing registry entries and create a System Restore point first.
1. Press

+ R and put regedit in Run dialog box to open Registry Editor (if you're not familiar with Registry Editor, then click here). Click OK.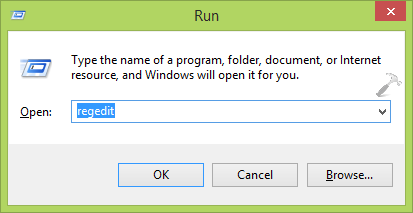 2. In the left pane of Registry Editor, navigate here:
HKEY_LOCAL_MACHINE\SYSTEM\CurrentControlSet\Control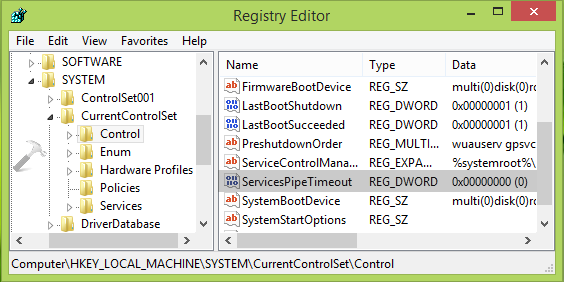 3. At this registry location, highlight the Control key in the left pane of above shown window. In the corresponding right pane, right click and select New -> DWORD Value. Name thes newly created DWORD as ServicesPipeTimeout and double click on it to get this: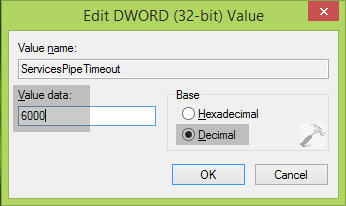 4. Finally, in the Edit DWORD box as shown above and set the Value data to 6000, making sure that select Base is Decimal. Click OK and close the Registry Editor and reboot the machine to make changes effective. After restarting the system, re-try to start the service with which you were facing the error, it should start fine by now.
That's it! Go here to read how to disable automatic removal of scan history items for Windows Defender.