In Windows 8 and 8.1, if you hit any hyperlink in any app, it always opens in Internet Explorer Modern UI mode. In this Metro app of Internet Explorer, there are limited options to navigate through. So if some one is looking for the extra right click context menu options that are available in Internet Explorer Desktop mode, he is unable to find them. On the other hand, if you don't like to use Modern UI apps, then you may also want to change this default relationship.
In this article, I'll show you the way to force Windows to open new links in Internet Explorer Desktop mode rather than opening in Modern UI mode. However, you can choose this setting from Internet Settings window, but if you are the administrator of your system and want to enforce users to use Internet Explorer Desktop mode only for opening links then you have to use Local Group Policy Editor for doing so. Please note that Local Group Policy Editor is not available on Windows 8 or 8.1 Home editions.
How To Force Windows 8.1 To Open Links In Internet Explorer Desktop Mode
1. Press 

 + R and put gpedit.msc in Run dialog box to open Local Group Policy Editor. Click OK.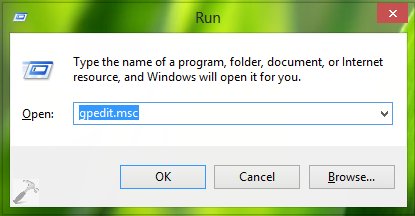 2. Navigate here:
Computer Configuration -> Administrative Templates -> Windows Components -> Internet Explorer -> Internet Settings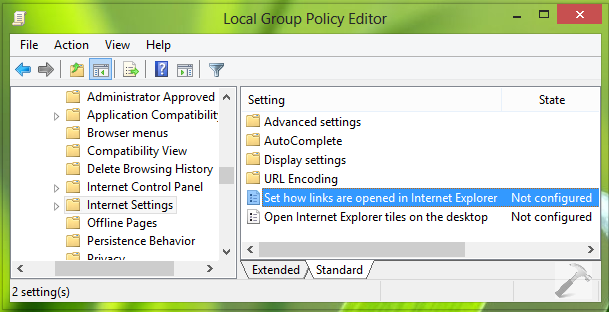 3. In the right pane, look for the Setting named Set how links are opened in Internet Explorer which must be showing Not Configured status by default. Double click on this policy to get this: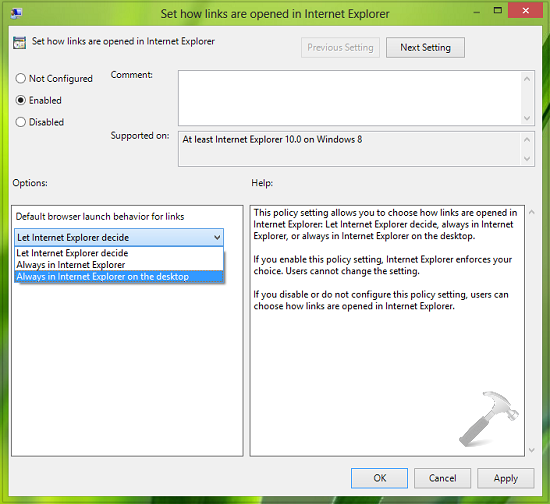 4. In the above shown window, firstly click Enabled and then in the Options, for Default browser launch behavior for links drop down, select Always in Internet Explorer on the desktop. Click Apply followed by OK. You may now close the Local Group Policy Editor now.
5. Press

+ R and type inetcpl.cpl in the Run dialog box and press Enter key / click OK to open Internet Properties.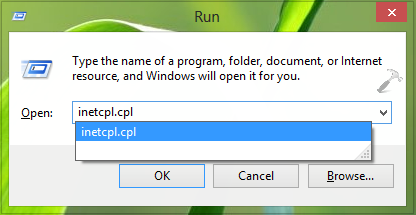 6. In the Internet Properties window, switch to Programs tab. You'll now observe that user's can't configure Choose how you open links option since we enabled the corresponding Group Policy or we forced Windows to open links in Internet Explorer Desktop mode always.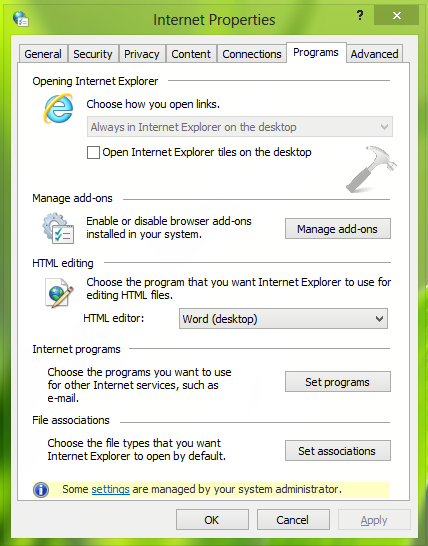 That's it!