When it comes to transfer our data from one device to another, Universal Serial Bus (USB) devices are something which will first come to your mind. We all use these USB devices aka pen drives because they're convenient and easy to use. But sometimes, Windows may not recognize your USB device and hence you can't not take benefits of that pen drive.
This is not strictly a Windows 10 problem, but may occur with any of Windows edition you're using. Hence, the suggestions mentioned in this article to fix, applies to all them. Talking about the cause, they may be miscellaneous. For some USB drives, malfunctioning hardware might be the problem, while for some, outdated drivers may be the culprit.
We faced this issue on Windows 10 Pro, after plugging USB device (Apple iPad in this case), we recieved USB Device not recognized message. Then we checked the same device in Device Manager (run devmgmt.msc command to open this). The device listed under Universal Serial Bus Controllers with an exclamation mark on its entry. Here the device was renamed to:
Unknown USB Device (Device Descriptor Request Failed)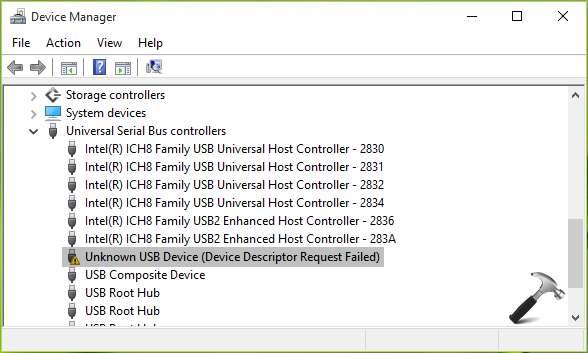 Then property sheet mentions the detail of this error as:
Windows has stopped this device because it has reported problems. (Code 43)

A request for the USB device descriptor failed.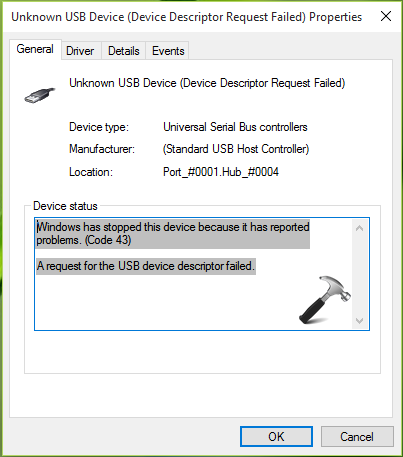 Since Code 43 is mentioned here, you should eject the device and then re-plug it correctly and this should suppress this case. You may also try right clicking the device as mentioned above and select Uninstall. Then you can re-plug the device and reinstall it, see if that helps. You might want to give a shot to update USB device drivers as well.
If nothing helps, here is how you fix this error on your system, so that your USB device started working again:
FIX : Unknown USB Device (Device Descriptor Request Failed) In Windows 10
Method 1 – Enable Enhanced Power Management For USB Device
1. Open Device Manager by running devmgmt.msc command. Expand Universal Serial Bus Controllers and right click on the device not recognized, select Properties.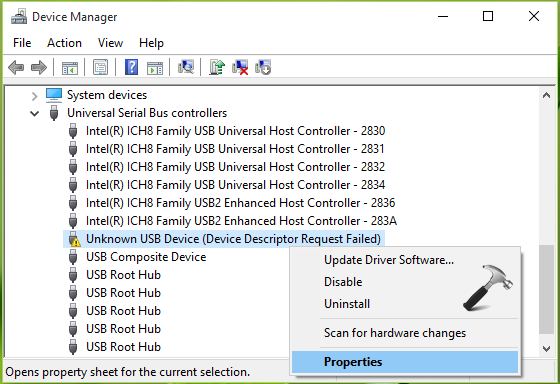 2. In the property sheet, switch to Details tab. For the Property drop down, select Device instance path. In the Value section, highlight the value and right click it, select Copy.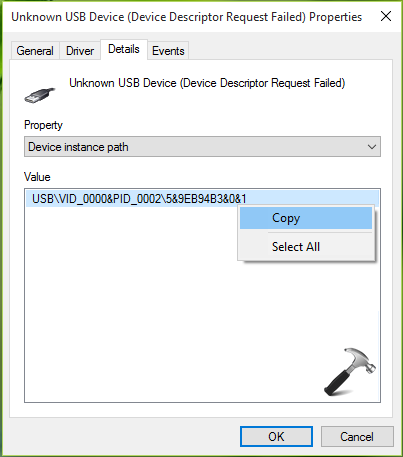 Registry Disclaimer: The further steps will involve registry manipulation. Making mistakes while manipulating registry could affect your system adversely. So be careful while editing registry entries and create a System Restore point first.
3. Press

+ R and put regedit in Run dialog box to open Registry Editor (if you're not familiar with Registry Editor, then click here). Click OK.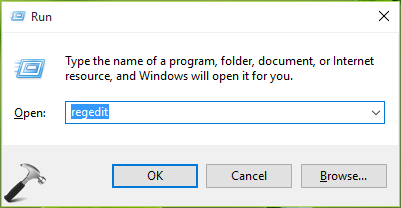 4. In the Registry Editor window, press Ctrl + F and paste the Value we copied in step 2, click Find. This should take you to registry key of problematic USB device. You can also manually navigate to its registry key:
HKEY_LOCAL_MACHINE\SYSTEM\CurrentControlSet\Enum\

<Device Instance Path>

\Device Parameters

*Substitute <Device Instance Path> with the Value we get in step 2.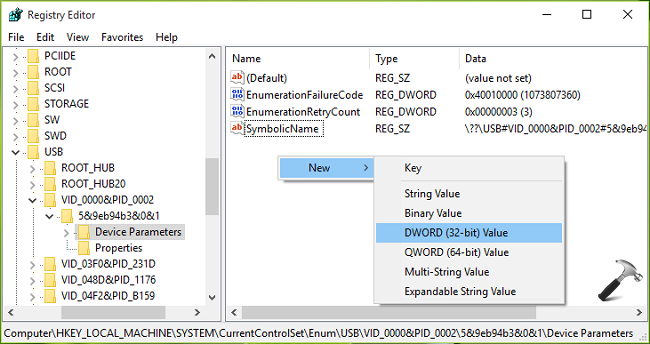 5. In the right pane of Device Parameters registry key, right click and select New > DWORD Value. Name the newly created registry DWORD (REG_DWORD) as EnhancedPowerManagementEnabled. The DWORD Value data should correspond to 0.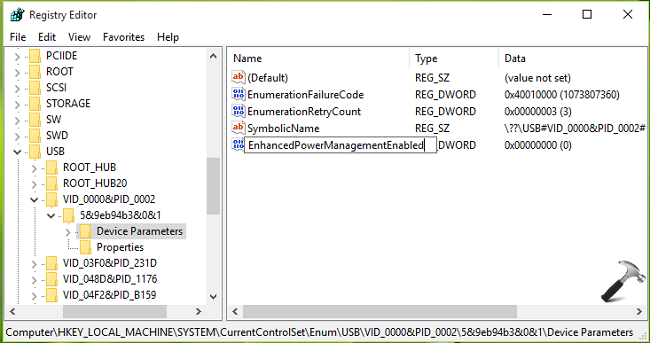 Close Registry Editor, and unplug the USB device. Reboot the machine, re-plug the device and the issue should no longer persist.
Method 2 – Using Hardware and Devices Troubleshooter
To resolve this problem, you can also take the advantage of in-built troubleshooters available in Windows 10. For this case, you should run Hardware and Devices troubleshooter to automatically found and fix issues:
Steps to run Hardware and Devices troubleshooter in Windows 10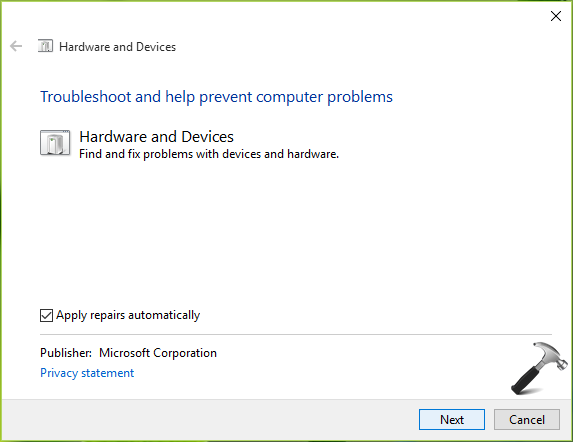 We hope after running the troubleshooter, you would be able to resolve this issue.
Let us know, if you still have the issue, via your comment. For any other issue with USB drives, run Windows USB troubleshooter.