When you install a software on Windows or connect your system to another device, the role of permissions becomes of paramount importance. It's the permissions, which actually defines how the content on device or software has to be delivered with different kind of system users. Thus sometimes, when you open a program or access a device or go to a folder location, you may receive this error message:
Windows cannot access the specified device, path, or file. You may not have the appropriate permission to access the item.

According to Microsoft Support, following may be the cause behind this kind of issue:
You do not have permissions to the file or the file location
The file is on a location that is not currently accessible like a network location or an external drive that is not currently connected to the PC
The file has been moved or deleted
The file or shortcut is corrupt
The file may be blocked by Windows
Your antivirus software may be blocking the file
If you're pretty sure that file exists and is in OK condition, plus it belongs to an accessible location, then you can try to provide full control to user who is facing this problem. Generally, to provide full control to an user, you need to signed in as administrator and follow these steps:
Recommended : Steps to manually take ownership of files or folders in Windows 7+
FIX : Windows Cannot Access The Specified Device, Path, Or File
1. Go the failing application path, device or file, which is shown in title bar of error message window. Then select the item which is causing root cause and click Properties in ribbon or simply press Alt+Enter.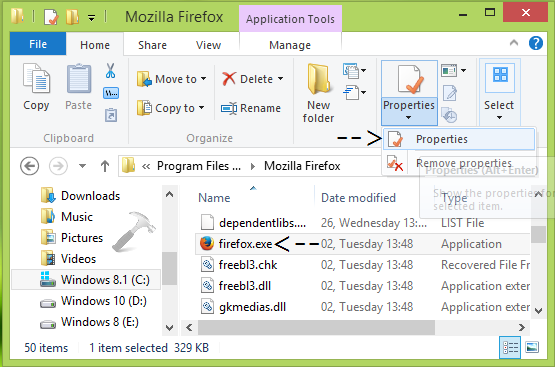 2. Next, in the properties window shown below, under Group or user names section select the user which is facing issue. Now check the permissions for this user, generally you'll find that user don't have full control in this case. So now click Edit option to change permissions.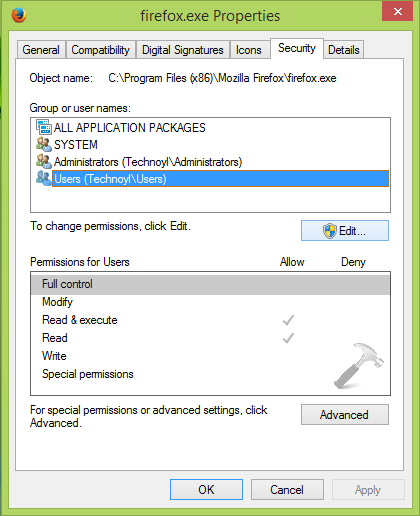 3. Finally in the window shown below, select the same user and provide full control to it by checking or enabling all the options in Allow column. Click Apply followed by OK.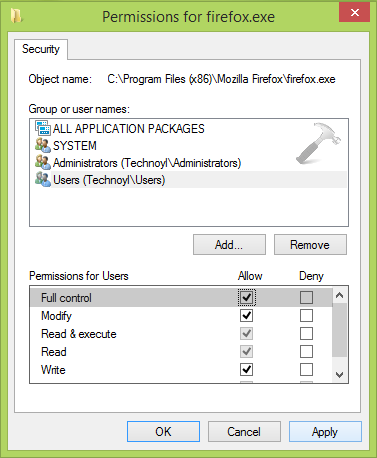 You can now try to access problematic specified device, path, or file and this time the error won't appear for sure.
Hope this helps! Go here to learn how to add multiple file selection options to context menu of File Explorer.