Creating a playlist in Windows Media Player helps you to sort your favorites among total media loaded on your system. Thus after creating a playlist, only those items would be played who're in the list. One more benefit of this is that you can even burn the playlist to a disc. Hence in this way, many discs can be easily created with single playlist. However, recently we came around following error while creating a playlist:
Windows Media Player encountered a problem while creating or saving the playlist.

Even by rebooting the machine after getting this error, the issue still persists. After this, we tried to disable then enable Windows Media Player from Turn Windows Features on or off page, but this didn't helped at all. Finally, we tried following ways and both seemed to worked perfectly and solved the issue significantly.
So here the two possible fixes for this problem, make sure you've closed Windows Media Player before applying them:
FIX : 'Windows Media Player Encountered A Problem While Creating Or Saving The Playlist' In Windows 10/8/7
FIX 1 – Using File Explorer
1. Press

+ R and type %LOCALAPPDATA%\Microsoft\Media Player in the Run dialog box, click OK.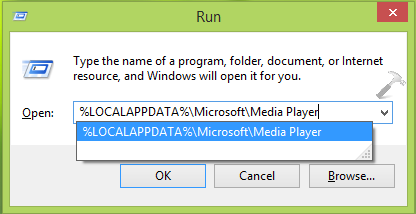 2. In the Media Player folder so opened, select all the files (leave folders as it is) and right click, choose Delete.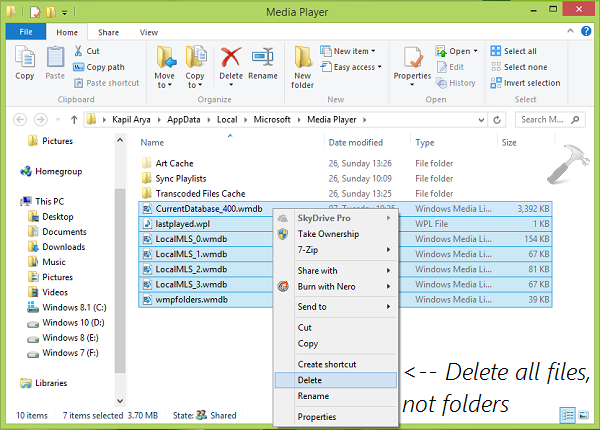 After deleting the files, you can restart your system and check if the issue is resolved.
3. If the issue still persists, you then need to delete entire Media Player (%LOCALAPPDATA%\Microsoft\Media Player) folder and reboot. After restarting the system, Windows will automatically generate this folder now when you open Windows Media Player. Thus, this should solve the problem.
FIX 2 – Using Built-in Troubleshooters
Another thing you can try to suppress this hiccup is to use Windows Media Player Settings and Windows Media Player Library troubleshooters mentioned in following article:
Fix: Windows Media Player has stopped working
After running the troubleshooting wizard, and applying suggested fixes, the error must be resolved.
That's it! Go here if you can't play files of various format via Windows Media Player.