When you open a file in Windows, a security identifier stored in file properties when it is being saved, checks its integrity. If the security identifier found the file harmful, it immediately blocks and the file can't be opened at all. Well, its a quite old story, but yet it is true today even for Windows 10.
Recently, while opening a file downloaded from the Internet using Internet Explorer (IE), we got following warning message:
These files can't be opened
Your Internet security settings prevented one or more files from being opened.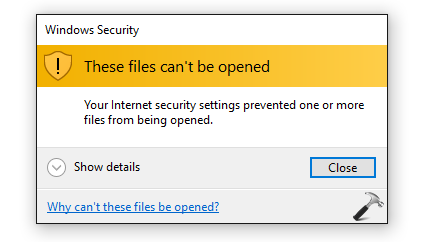 But the file we're were trying to open wasn't harmful and we were quite sure about it. So how to fix this and tell Windows that the file is safe to open! If you're also having this problem, this post is for you. The root cause for this issue may be incorrectly configured Launching applications and unsafe file security setting. If you reset this setting to its default configuration, this issue gets resolved.
FIX : Your Internet Security Settings Prevented One Or More Files From Being Opened In Windows 10
FIX 1 – Using Internet Properties
1. Press

 + R and type inetcpl.cpl in the Run dialog box, to open Internet Properties.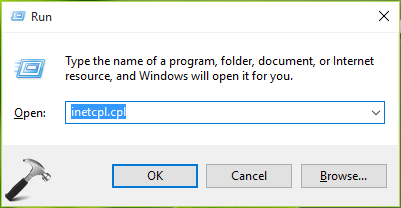 2. Next, in Internet Properties window, switch to Security tab. Click on the Custom level button there.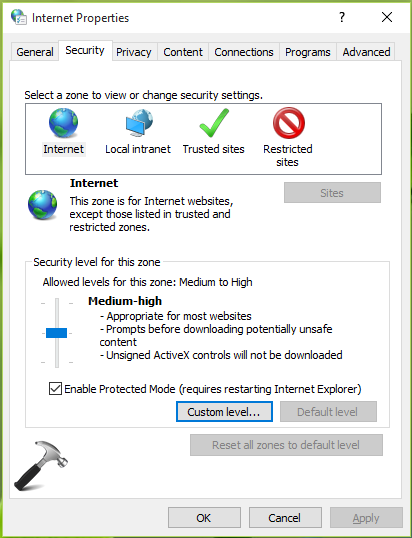 3. Next, in Security Settings – Internet Zone window shown below, scroll down and look for Launching applications and unsafe files setting. The setting might be set to Disable and this is the root cause of this issue. Set it to Prompt (recommended) option and click OK, Apply, OK.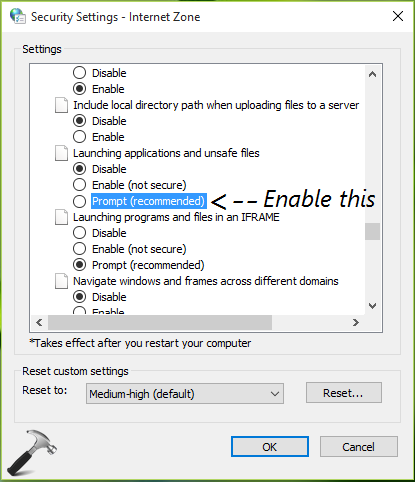 4. Finally, reboot the machine and after restart, you should be able to open the file without any warning message.
FIX 2 – Reset IE/Microsoft Edge Settings To Default
If steps mentioned in FIX 1 doesn't helps, you can try resetting IE to its default configuration. Following article will help you how to do this:
Learn how to reset IE to default settings in Windows
If you're using Microsoft Edge, you can reset it using this guide:
Learn how to reset Microsoft Edge to default settings in Windows
We hope resetting IE will fix this and other issues (if any) at once. After IE reset, reboot once and try opening same file, it should work this time.
Let us know if issue still persists, via your comments!