The role of date and time settings in Windows 10 looks quite important for fine working of communications apps. The apps like Mail, Calendar, Store hardly depend upon your system's regional settings, locale configuration etc. If you're facing issues with these apps and they don't responds or freezes, refer this fix:
[FIX] Store, Mail And Calendar Apps Not Working In Windows 10
Today, we came around a very strange problem while using Calendar app. The app thrown a warning regarding Outlook account settings. Here is the message we received in this case:
Your Outlook account settings are out of date.

There may be notifications for this as well in the Action Center of Windows 10:

If you're having Live or Hotmail account connected, then possibly you'll receive:
Your Live/Hotmail account settings are out of date.

As soon as we got this message, we clicked Fix account and found that Windows solved the issue. But then on restarting the machine, same problem appeared again. In case you're too facing this weird problem, here is something you can try to get rid of it.
FIX : Your Outlook Account Settings Are Out Of Date
FIX 1 : Synchronize Your System With Internet Time
1. Navigate to Control Panel > Clock, Language and Region > Date and time > Set the time and date > Internet time > Change settings.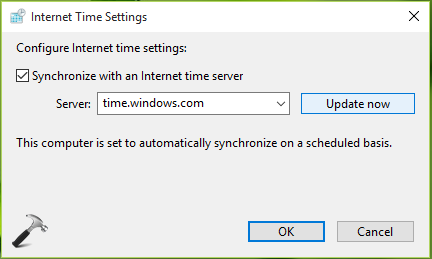 2. Now check Synchronize with an Internet time server and click Update now. Then click OK, Apply, OK and close Control Panel.
Once you're done with synchronization, the problem should be fixed on the go. In case, if the issue still persists, try FIX 2.
FIX 2 : Switch to Local Account from Microsoft account and vice versa
Sometimes, switching the account from either local one to Microsoft one or Microsoft one from local account works for many users. Following article shows the step-by-step guide for these switching account:
[How To] Switch To Microsoft Account From Local Account And Revert Back
Thus if see switching works, you're good to go. Additionally, you may want to create another user account and check if the issue persists on that. If the issue can't be reproduced on newer account, backup your stuff from older account to it and go ahead with this new account.
This video shows illustration of our FIX 1:
Hope something helps! Read this if you can't switch to Microsoft account from local account in Windows.