Windows 8 brought us the concept of signing into our computer using our email accounts, we all know this. For this to make possible, you need to switch your traditional local account to Microsoft account, in case you created a local account first just after installing Windows. Switching to Microsoft account is simple, just go to your account section in Settings app, and connect your system to your Microsoft email ID. Here is the step-by-step guide to switch to Microsoft account.
How to switch to Microsoft Account from local account and revert back
Using Microsoft account has various advantages too, like you can easily browse and download apps from Store, sync your files and apps across devices etc. etc. Well, sometimes due to technical issues or missing of required services, you may face trouble while switching to Microsoft account. Recently, we came around one such error:
Switch to a Microsoft account on this PC
Sorry, we couldn't connect to Microsoft services right now. If this problem persists, search for network problems on the Start Screen.

This kind of error you're likely to receive under intermittent network connectivity, while switching to disabled or non existing Microsoft account etc.
See : How to fix intermittent network connectivity in Windows
Here are the two fixes you can try under this scenario:
FIX : Can't Switch To Microsoft Account In Windows 10/8.1/8
FIX 1 – Using Services Snap-in
1. Press 

 + R and put services.msc in Run dialog box. Click OK to open Services.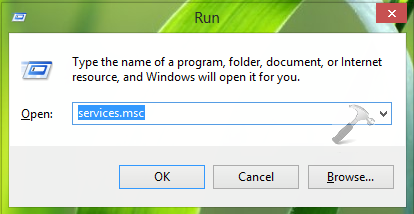 2. In the Services window, scroll down and look for the Microsoft Account Sign-in Assistant service. Since you're facing this issue, this service may not be running. Double click on same service.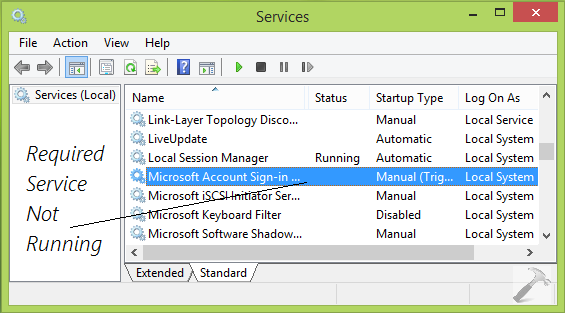 3. In the Properties window for Microsoft Account Sign-in Assistant service, at General tab, set the Startup type to Automatic or Manual. If the service status is Stopped in your case, click Start button there. Click Apply followed by OK.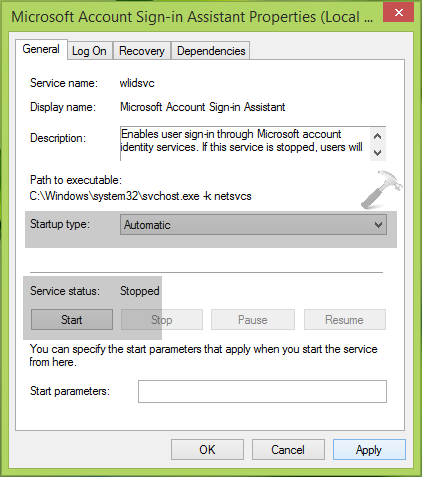 You can now close the Services window and reboot the machine to check if the problem is resolved. In case if the issue still persists, you can try the additional steps mentioned below:
FIX 2 – Using Troubleshooter
1. Download Microsoft Accounts troubleshooter.
2. Run the troubleshooter wizard, Microsoft has so designed this troubleshooter that it automatically detect invalid settings. So you just need to click Next option in below shown window, and wait till troubleshooting is completed,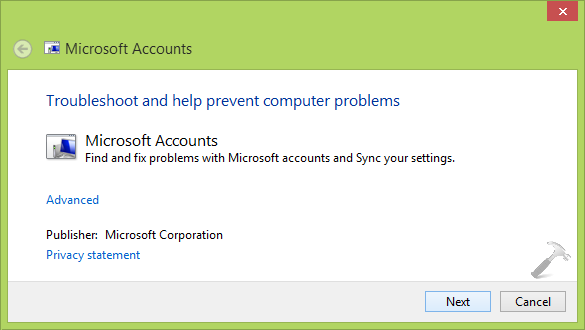 Once troubleshooter fixed issues, you can reboot the machine and then try switching to Microsoft account.
Hope this helps!

Related: 'Oops, something went wrong' error while switching to Microsoft account.