Obviously, Microsoft has made some strange changes in Windows 7 and Windows 8 as compared Windows XP. In Windows XP, we've loved the Start Menu items. The most handy thing in Windows XP was to access programs via Accessories. But unfortunately, due to modernization of Windows series, Microsoft has removed the Accessories, even the Start Button and Menu. We've discussed the removal of Start Button couple of times in the past, but all in vain and nothing comes from that, as Microsoft is in no favor to add the removed items back to Windows.
Add Accessories To Desktop Context Menu
So, now we have to find the Accessories programs separately and then we've access to them. But a simple registry trick can save your number of steps to find and open the programs enlisted under Accessories. The trick is to add the programs list under the hood of right click Desktop context menu, in the way as shown below: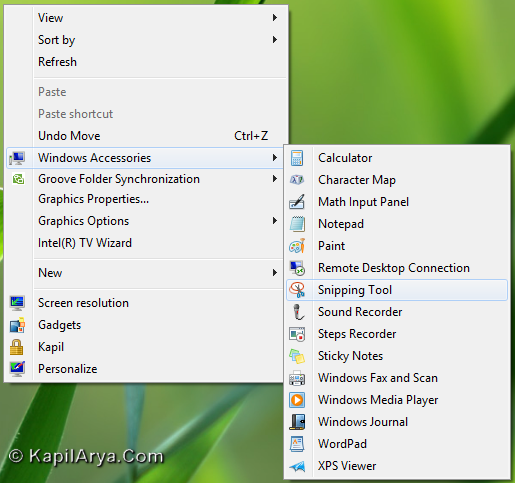 Obviously, this will make to access programs even faster. We've tested the trick, and fortunately it works on Windows 7 and 8. All you need to do is to download the registry script from below link and then right click on it when downloaded and select Merge (provided you're are the admin of your computer).
In case, you want to removed the added options, you can do that using following registry script. If you're prompted for UAC permissions, click Yes. Here is the link:
Hope you like the tip!