In order to improve Windows 10 in successive builds, Microsoft may collect some data on the currently offered builds. This data may include crash logs, performance analysis of features etc. Microsoft collect performance and usage information so that they can identify and troubleshoot problems as well as improve the existing features, products and services.
This doesn't means that Microsoft is tracing your each and every step in Windows 10 but they are collecting some of the relevant data for sure, which helps them to make Windows 10 more optimized. It's worth to mention that who will be able to see this data. According to this official FAQ at Windows site, the data can be seen by Microsoft employees, contractors, vendors, and company partners who're provided access to relevant portions of the information collected, but they're only permitted to use the information to repair or improve Microsoft products and services, or third party software and hardware designed for use with Microsoft products and services. So if you're concern with your privacy, this sounds that your privacy in Windows 10 is not going to compromised, perfect!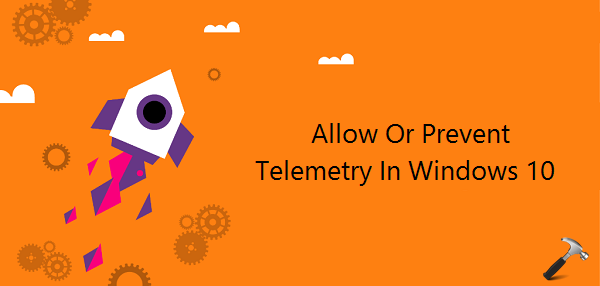 In this article, we will see how you can control the amount of data that will be sent to Microsoft. However, expect for Enterprise editions, there is no way you can disable telemetry completely on Windows 10. Here is how you can deploy a Group Policy to allow or restrict telemetry:
How To Allow Or Prevent Telemetry In Windows 10
NOTE : Local Group Policy Editor is only available in Windows Enterprise and Pro editions.
1. Press 

 + R and put gpedit.msc in Run dialog box to open Local Group Policy Editor. Click OK.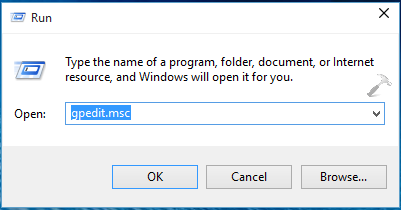 2. Next, in the Local Group Policy Editor window, navigate here:
Computer Configuration -> Administrative Templates -> Windows Components -> Data Collection and Preview Builds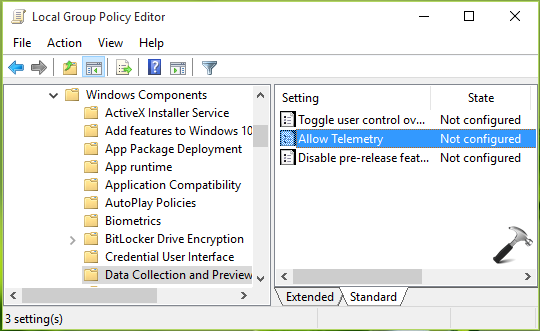 3. At this Group Policy path, making Data Collection and Preview Builds folder highlighted in left pane (refer above shown window) and in the corresponding right pane, look for the Setting named Allow Telemetry. You'll find that this policy is set to Not Configured by default. This means, users can control how much of data to be sent at Settings app > Privacy > Feedback & diagnostic > Diagnostic and usage data. Altering this Group Policy will force Windows for the same operation. Double click on it to get this: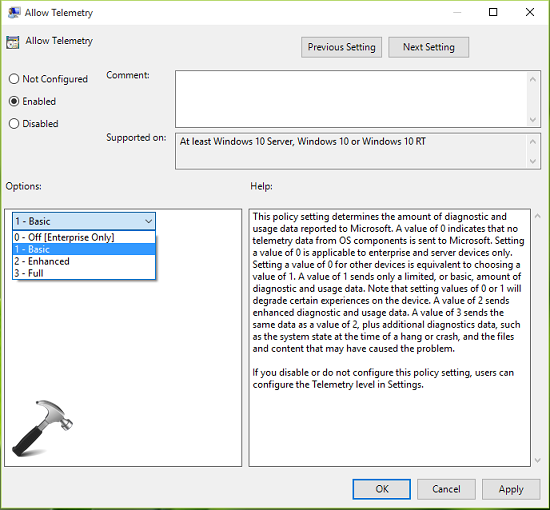 4. In the above window, select Enabled option to apply restriction sending less data to Microsoft. Then in the options section you can specify:

– A value of 0 which indicates that no telemetry data from OS components is sent to Microsoft (applicable to Windows 10 Enterprise editions only)
– A value of 0 for other devices is equivalent to choosing a value of 1. A value of 1 sends only a limited, or basic, amount of diagnostic and usage data. Note that setting values of 0 or 1 will degrade certain experiences on the device.
– A value of 2 sends enhanced diagnostic and usage data.
– A value of 3 sends the same data as a value of 2, plus additional diagnostics data, such as the system state at the time of a hang or crash, and the files and content that may have caused the problem.
After making your choice, click Apply followed by OK. Close the Group Policy Editor. Reboot the machine to make your changes effective.
That's it!