We all know that Windows 10 is currently under development and it is coming to us along with Universal Apps. In Windows 8, Microsoft introduced Modern Apps aka Metro Apps which were able to run on Windows desktop operating systems only, but Universal Apps are supposed to run across all Microsoft Windows devices, as the name suggests.
The Redmond software giant has already released Windows 10 Technical Preview, about which you can read at following links:
So the main focus of Microsoft is now to bring their users on common platform, breaking out the barriers. According to Windows team, the Universal Apps would be able to deliver same power – on the phone in your pocket, tablet or laptop on your work desk, PC in your Office and Xbox console on your home.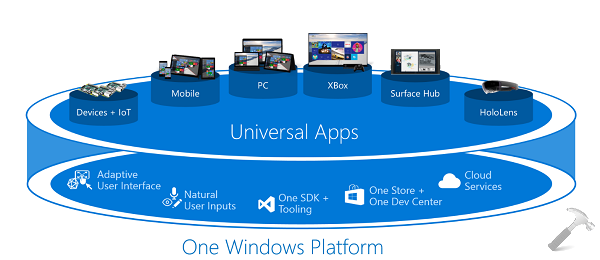 Windows 10 Universal Apps : FOCUS
The aim behind the introduction of Universal Apps can be understood by following key-points:
1. Adaptability, the first and foremost fact about of Universal Apps is getting fix to device width with ease. Just like the responsive website layout, Microsoft is impregnating same behavior in their apps to deliver unified experience to customers.
2. Perfect integration, the successor's of Modern Apps are likely to have much better integration of notifications, Cortana and cloud services. Till now, most of you're not much satisfied with Modern Apps. But outbreak of Universal Apps may change your thinking towards these apps.
3. Universal Apps are supposed to be landed with multiple input acceptance – that means – you can use speech, ink, gaze, gestures to manipulate them.
4. A new kind of browser named "Spartan" which is actually the equivalent of Internet Explorer Modern App has to come. The same will have a new rendering engine, plus better view control. You can test right now it by typing about:flags in Internet Explorer inside Windows 10 build, and activate Enable Experimental Web Platform Features option there.
So the conclusion is that, Microsoft has making something more delicious than Modern Apps. We'll keep an eye at the Build Conference in next month to get more over Universal Apps as well as on Windows 10. You can read the complete post of Universal Apps at Windows blog.
Stay tuned for more updates