Yesterday, while working with folders under File Explorer in Windows 10, we came around a strange error. This error prevented the renaming operation for the folder. So while renaming the folder, the message with which we greeted is as follows:
An unexpected error is keeping you from renaming the folder. If you continue to receive this error, you can use the error code to search for help with this problem.
Error 0x80007005: Access is denied.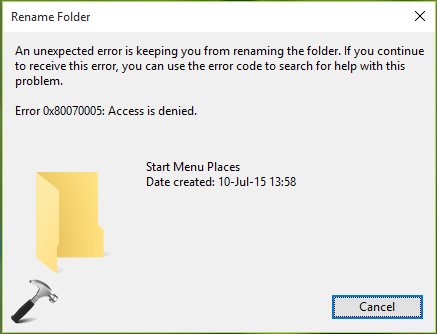 Here, the error 0x80007005: Access is denied part in the message shows that we're missing desired permissions. However, you may also get the same error message with other error codes such as error 0x80007005: Unspecified error, error 0x8000703B: An unexpected network error occurred etc. The above mentioned error message and error can also appear with other file & folder operations as well such while deleting, creating, copying.
An unexpected error is keeping you from creating the folder. If you…
or
An unexpected error is keeping you from deleting the folder. If you…
or
An unexpected error is keeping you from copying the folder. If you…
So if you're also facing this problem on your Windows 10/8.1/8/7, then this article is for you. Since the issue is related with File Explorer, your first step to troubleshoot this issue must be to run System File Checker. If the issue still persists, you can go ahead with below mentioned fixes to resolve this problem:
FIX : An Unexpected Error Is Keeping You From Renaming The Folder (0x80004005) In Windows 10/8.1/8/7
FIX 1 – Using File And Folder Troubleshooter
Using Microsoft's official File and folder troubleshooter, you can easily overcome this issue. The troubleshooter not only deals with file and folder issues on offline computer but on network connected machine as well.
You can download File and Folder troubleshooter here.
Run the winfilefolder.diagcab file and you should be able to see below shown screen. Check Advanced > Apply repairs automatically.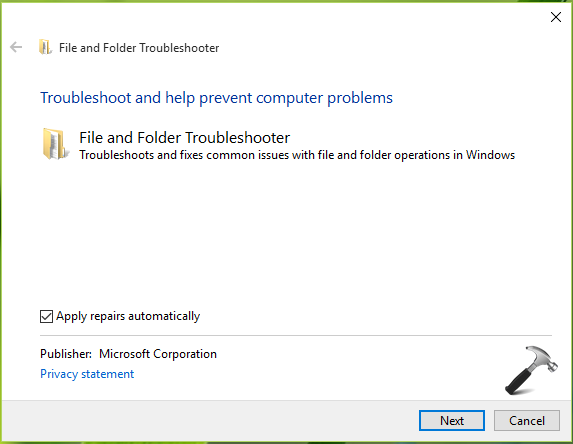 Follow on-screen instructions and select the options which suits your condition. The automatic troubleshooting will fix the problem in this easiest way.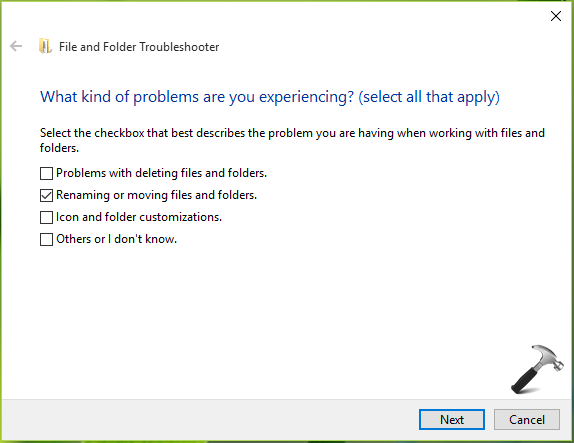 If you find no changes in the situation, you can carry on with FIX 2.
FIX 2 – By Providing Required Permissions
For error 0x80007005: Access is denied, you essentially need to fix the permissions for the file or folder with which you're facing the issue. To grant full permissions, you can try steps mentioned here:
Steps to provide full permissions for file/folder in Windows 10
After providing the permissions, the issue should be suppressed significantly.
Let us know via comments, if the issue still exists!