Activation is the mandatory step you should take to enjoy all the features of your Windows 10 operating system. While activating Windows 10 users have came around some strange errors. Since the release of Windows 10, users have reported various errors on different sites on the Internet. If your Windows isn't activated, the error description or code can be obtained at Settings -> Update & security -> Activation -> Error details.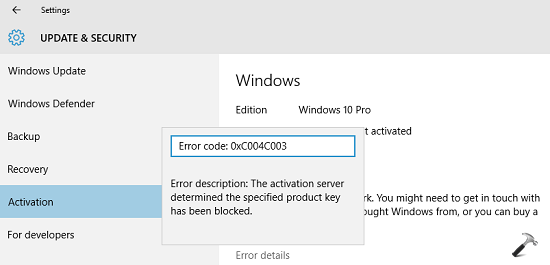 However, many errors reported till now have some common root causes and the suggested steps of the same may work to solve the activation issue for you. In this article, we're sharing you the common approaches to tackle these errors, so that you can easily activate the new OS and enjoy it.
FIX : Cannot Activate Windows 10 Due To Various Errors
This is the list of most common errors that are faced by users till now. Spot the error you've just received and apply the necessary steps mentioned against it to solve the activation issue.
ACTIVATION ERROR

HOW TO FIX

The Software Licensing Service reported that the license could not be found or was invalid. (Error code: 0xC004F034)
Checkout the complete steps to fix.
A security error occurred. (Error code: 0x80072F8F)
Verify that system data, time and region is set correctly. Also verify that the system locale and language is set correctly


DNS name does not exist. (Error code: 0x8007232B)

The filename, directory name, or volume label syntax is incorrect. (Error code: 0x8007007B)

Happens when you're trying to activate the system at your workplace. If it's a network issue, contact administrator else try this:


Press + R and type slui 3 in the Run dialog box, press Enter key or click OK.
Enter your 25-character product key and activate Windows.

The activation server reported that the product key has exceeded its unlock limit. (Error code: 0xC004C008)
The demand of Windows 10 is critically high these days and activation server may remain busy all time to activate systems worldwide. If you receive this error, we suggest you to try again after some hours and see if it helps.

The Software Licensing Service determined that this specified product key can only be used for upgrading, not for clean installations. (Error code: 0xC004F061)
You'll see this error

only when

you've not upgraded from Windows 8.1 Update or Windows 7 SP1 to Windows 10 and you're directly putting the key into Windows 10.

A networking problem has occurred while activating your copy of Windows. (Error code: 0xC004FC03)
Try these suggestions:

Run the network troubleshooter

Make sure that you've proper web connectivity
Try to activate via automated phone system.

The activation server determined the specified product key has been blocked. (Error code: 0xC004C003)
Make sure that product key is correct.
Wait for around 24 hours and then re-try to activate.
This product key didn't work. (Error code: 0xC004C003)
You're entering wrong product key. Go to Store and buy new product key using these steps.

Press and navigate to Settings -> Update & security -> Activation.
Click Go to Store, and then follow the instructions to buy Windows.

Genuine Validation detected tampered Windows binaries. (Error code: 0xC004C4AE)
Uninstall all the third-party software on your system.
Run the SFC /SCANNOW command in administrative Command Prompt, then reboot and retry to activate. If issue persists, reinstall Windows 10 and retry to activate.
Unspecified error. (Error code: 0x80004005)
Reinstall Windows 10 and retry to activate.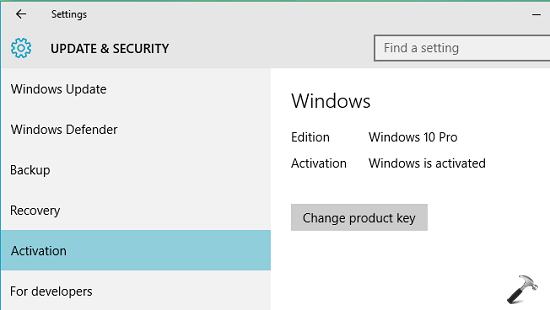 Hope this list helps you to solve the activation issue. Go here to learn how to use Microsoft Fix it to troubleshoot activation issues.